Iron Maiden Played to More Than a Million Fans on 2013 Tour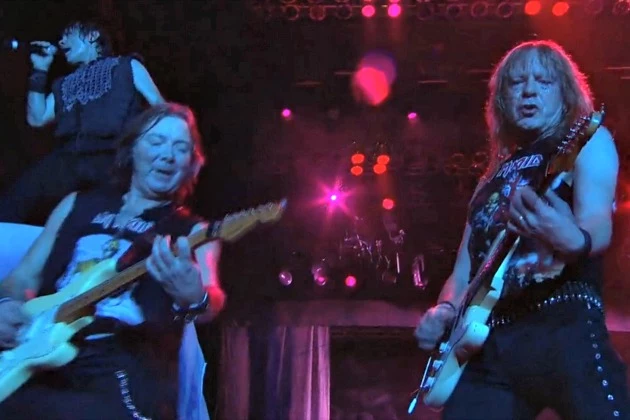 If you managed to catch Iron Maiden on the band's 2013 world tour, you were in some pretty good company.
The British metal legends wrapped up their latest global trek on Oct. 2 with a massive show in Santiago, Chile, drawing more than 60,000 fans and breaking a record for the largest crowd that a U.K. band has ever assembled in the country. As Blabbermouth notes, this is more than a little ironic, considering that Iron Maiden were banned from playing in Chile in 1992, yet they've returned repeatedly over the years, even going so far as to record the live DVD 'En Vivo!' in the country in 2011.
The Santiago concert ended things on a fitting high note, considering the massive success the 2013 tour enjoyed all over the globe. According to a Facebook post from the band's tour production manager, "Since rehearsals started 131 days ago with one band and 102 crew, there have been 46 shows, 1,175,714 Maiden fans, 45,350 miles traveled, 44 cities in 25 different countries on three continents, 3,853 hotel rooms, 71,579 pounds of air freight, 2,576 stage hands, 350 lighting fixtures, 330 sets of guitar strings, 2,000 picks, 184 drums sticks, 600 rolls of gaffer, 400 rolls of tape, 598 tanks of CO2 gas, 278 tanks of propane, 3,380 dinners, 96 cheese wheels, 5,646 bottles of Trooper beer, hundreds of miles walked by Hackers … and we have made it to the end of another tour."
So what's next for the band? Not much, according to guitarist Dave Murray. In a new interview quoted in Blabbermouth's tour report, Murray joked that the band is content to let its Trooper beer do the touring for now and added, "We've been out on tour quite a few months this year. So when we finish, we're actually going to go and head back and take a break, really … We're just gonna spend some time off recuperating. So I'm not quite sure what's gonna be happening next year. It's all up in the air."
Source:
Iron Maiden Played to More Than a Million Fans on 2013 Tour