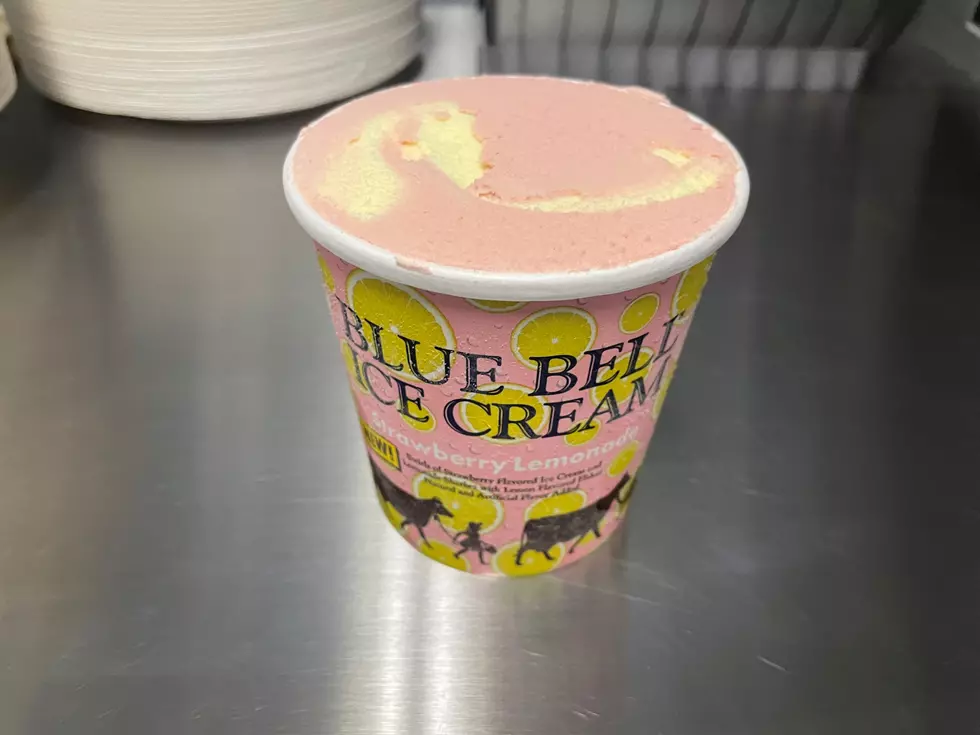 Blue Bell Perfectly Crafts Ice Cream & Sherbet with latest flavor
KICKS 105
Whenever Blue Bell introduces a new flavor, they are kind enough to deliver samples to us here at the KICKS 105 Studios.  This morning at 8:10, a Blue Bell representative brought several pints of their latest delicious summer treat.  I'm not sure of the name of the guy from Blue Bell...I'll just call him Santa Claus because every time he drops by it's like Christmas morning.
The newest Blue Bell flavor is Strawberry Lemonade Ice Cream.  My first thought -- that flavor might be better for a sherbet.  Ice cream could be too heavy for a light, fruity flavor like Strawberry Lemonade.
Of course, leave it to the experts at Blue Bell to perfectly combine ice cream and sherbet for a one-of-a-kind treat that is right on point. According to Blue Bell, Strawberry Lemonade is a delicious strawberry ice cream swirled with a refreshing lemonade sherbet sprinkled with lemon-flavored flakes. By the way, I love those lemon flakes, they add a great burst of flavor with just the right texture.
"Ice cream is the perfect summer dessert, and we are excited to kick off the season with our new Strawberry Lemonade Ice Cream," said Sara Schramm, marketing brand manager for Blue Bell. "We wanted this flavor to be light and refreshing, just like drinking a strawberry lemonade. The texture of the lemonade sherbet combines perfectly with the strawberry ice cream...We know Strawberry Lemonade will be the flavor of the summer."
Strawberry Lemonade is available in half-gallon and pint sizes while supplies last.
Also new, and now in stores, is Chocolate Peanut Butter Overload. I love it when Blue Bell introduces a new flavor. The bad news is that these are usually available for a limited time.
Oh, but here's some good news...listen to the Merrell in the Morning Show at 7:30 for the Contest Wheel.  On some days, we'll be giving away FREE Blue Bell Ice Cream.
$2 Million Home on Eagle Point Lane in Hemphill
Check out the gorgeous views and luscious amenities of this $2 million dollar home that's listed for sale through Allman Company Realtors.
More From Classic Rock Q107