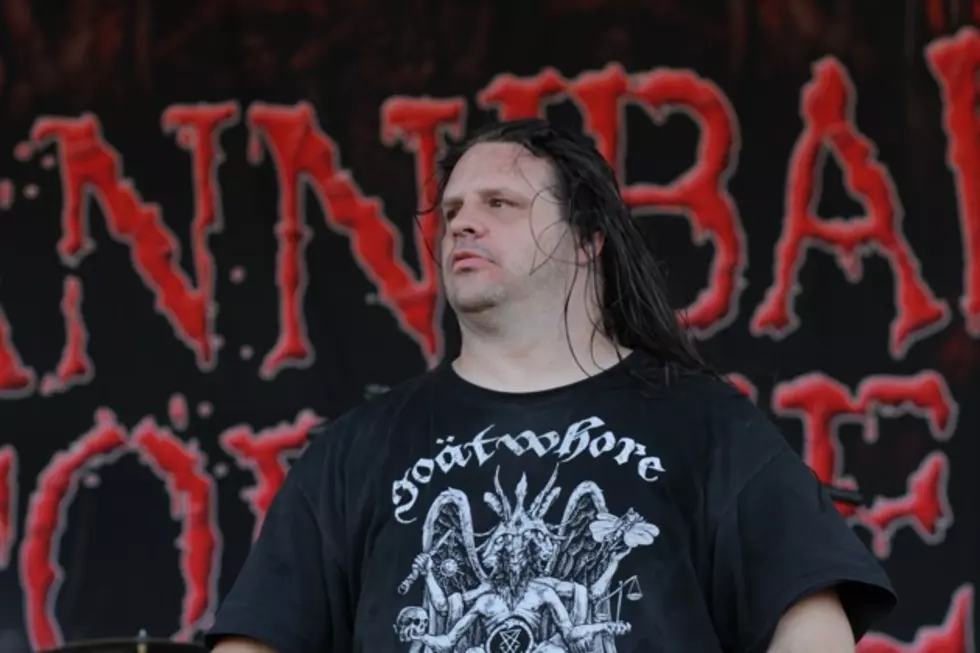 Cannibal Corpse's George 'Corpsegrinder' Fisher Seeks Hurricane Irma Refuge at Elementary School Shelter
Charles Epting, Loudwire
While parts of the country were still reeling from the devastating effects of Hurricane Harvey, Hurricane Irma gathered in the Atlantic Ocean, battering islands en route to Florida over the weekend. The storm displaced hundreds of thousands of residents as they evacuated the state or sought refuge in shelters, including Cannibal Corpse frontman George 'Corpsegrinder' Fisher and his family.
Like so many of Florida's death metal acts, Cannibal Corpse are centralized in Tampa Bay, an area that was expected to see the wrath of Irma. Fisher posted an update from his Instagram account (seen below), checking in at the Double Branch Elementary School in Wesley Chapel, part of the Tampa Bay metro area. He was pictured sitting in a folding lawn chair, flashing the horns with his family, who were positioned in the corner of a room in the school.
"We decided to weather the hurricane at a shelter," said Fisher. "It's just not worth the risk. I hope anyone who needed to did the same. Stay safe everyone in Florida! Your friend, The Thumb....That is [Chris Jericho's] nickname for yours truly and I LOVE IT!!!"
We're wishing the best for Fisher and his family along with anyone else affected by Hurricane Irma. Stay safe!
Cannibal Corpse will embark on a headlining U.S. tour starting Nov. 3. Support will come from rising thrash maniacs Power Trip and death metal upstarts Gatecreeper. The group is expected to be touring behind a new album, which will serve as the successor to 2014's A Skeletal Domain and to see if the trek is coming to a city near you, click here.
Cannibal Corpse Albums Ranked
Cannibal Corpse Show Raided by Russian Authorities - Epic Rock Tales
More From Classic Rock Q107