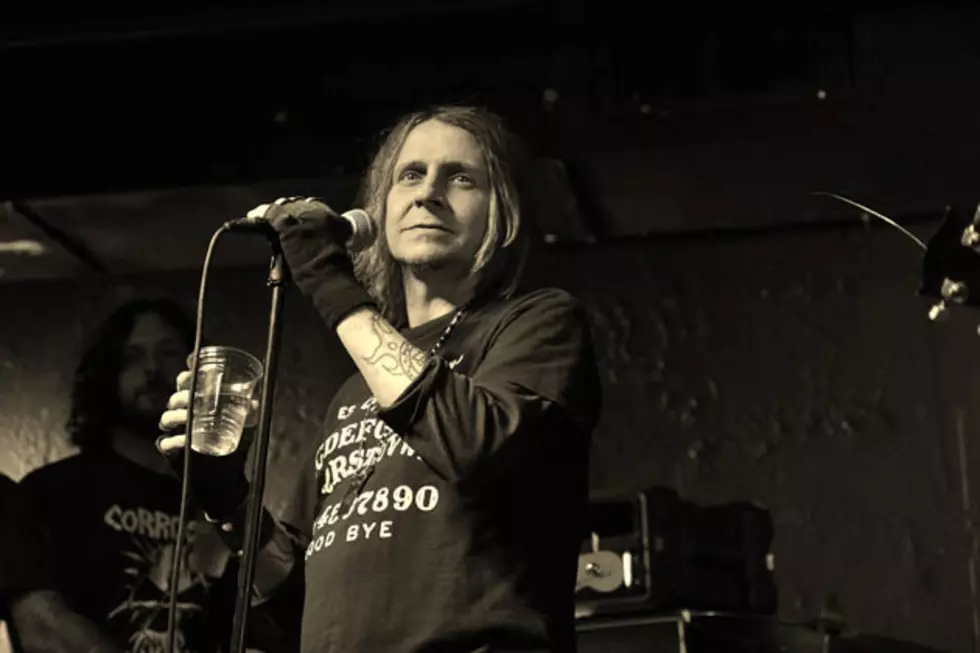 Eyehategod's Mike IX Williams: 'I Just Want to Keep Doing This Until I Do Get Six Feet Under' [Interview]
Liz Ramanand, Loudwire
Eyehategod frontman Mike IX Williams was the latest guest on Full Metal Jackie's weekend radio program. The singer had been sidelined from the band for quite some time as he has been in the recovery process after a liver transplant last fall. Williams returned to the stage with the iconic sludge outfit for the first time since the procedure at the Berserker festival in Detroit, Mich. and elaborated here on nearly losing his life, recovery, easing back into Eyehategod and more. Check out the chat below.
Hey, what's happening everybody? I'm good, I'm good, I'm still alive, I'm here.
Glad to hear that. Obviously back in February there was a benefit to help you out with your medical bills following a successful liver transplant at the end of the year. First, most important, tell us how you're feeling.
I feel great. I feel like 10, 15, 20 years younger, to be honest. It's amazing. I mean you know I'm not drinking anymore, obviously; I've got a new liver. It's just amazing, I mean I was really sick there for a while. I had been sick for a few years, but I just kept blocking it out of my head. I just wanted to keep touring and keep being myself without saying anything about it or even taking care of it. When I finally found out what was wrong with me and feeling the way I did it was pretty damn serious so yeah, I'm feeling great now; I mean I've got someone else's liver. It's amazing. It's a miracle of science, you know.
I have to imagine that the uncertainty leading up to your liver transplant must have been exhausting.
Oh yes, it was. I mean for the last, most of, well the end of 2015 and most 2016 I was just in and out of the hospital constantly. And I wasn't telling anybody, you know, it was just me and my wife and my close friends knew, and finally, October of 2016 they were basically like, "You're just gonna end up back here so we're just gonna keep you here" and so I stayed there and they took care of everything they needed to to get me on the list.
It was a hell of a ride there man I mean one day you're on the list, the next day, they find something and they can't put you on the list and everything has to balance out. It's a lot of different things that have to line like the planets line up, it has to be that perfect situation and I lucked out and I totally got lucky and I'm proud of that and thankful.
Talking about that time leading up to the transplant, how did music motivate you to stay positive?
Oh I mean it's always there, it's always a factor in my life, just knowing that I wanted to get back out and get onstage. I'm not a young man by any means but I just want to keep doing this until I do get six feet under. I mean music in general kept me going and the fact of wanting to get back onstage and there was actually one time when I was in the critical care unit in one really serious episode that I had and my wife put the earbuds in my ears and she just turned on my iTunes or whatever on my phone and let it play and I had been unconscious before that for like two days.
I was completely unconscious. She put the music in my ears and it woke me up. The music made me — all of a sudden I could remember hearing the bands that I love and I just, I just woke up and to me that pretty amazing that's the power of music, you know.
The outpouring of support throughout your liver transplant experience emphasize a real sense of community of metal bands and fans. How has that reinforced your love of metal?
I mean it's overwhelming, it's super overwhelming I mean just reading the posts everywhere on all the social media sites and on my YouCaring site, the fundraiser site we have. Just every day I would read those and it would give me the will to keep fighting.
Like you said before, the music and just the fight I have inside me to keep going, but it was overwhelming, man. People came out of nowhere and everywhere to show support and even if it wasn't a monetary thing, even if they didn't donate money to help, they showed their love and their people that are fans of the band and just in general just showed their support and even though Eyehategod are like a negative kind of band with negative imagery and lyrics and all that, it still it was beautiful to have all the love just pouring out of everywhere.
It makes me love this community more and more and more and more, which is already through the roof.
Talk to me about what goes through your mind when you're preparing to go back onstage after focusing so much energy on regaining your health.
It's just nonstop. I'm nervous. But at the same time I got all this new energy now. Just after the recovery of the surgery and it's only been four months. I had the surgery in December of last year, so it's only been four months. I'm full of energy. It Just comes out of me, I'm just ready to go.
I'm focusing on the songs and stage, mainly just having fun with people. I want to talk to people that are out there. Eyehategod, we don't hang out backstage. We talk to our fans as much we can until they get irritating. Anyway, I'm focused on everything and as you can see I'm kind of scatterbrained about it, I'm just super excited about it.
Eyehategod obviously still out there promoting the self-titled album from a few years ago, which was the most successful of the band's history. Mike, art reflects life. How do you think surviving life threatening health crisis will now inspire or affect what you express with music?
Well as far as the lyrics or music I'm sure — we're a band that doesn't change a lot. We sound the way we sound. Having been through a lot in my life, this isn't the only life threatening thing to ever happen to me. But it all kind of adds up in that life experience that just really just makes me not want to take anything for granted. Not one second of the day.
I just want to move forward and just keep creating as much as I can until I can't anymore. Next year, 2018 will be Eyehategod's 30th anniversary, if you can believe that. It shows how aged I am, but still, I still have it in me. We all do. We just love this band and we can't wait to get out there. We're all psyched. The guys are psyched to have me back. Having Randy [Blythe] and Phil [Anselmo] sing some shows was — I gave them my blessing for that, that was awesome.
With Philip Anselmo and Randy Blythe filling in when you were too ill to perform, how difficult was it putting yourself aside for the greater good to make sure the show would go on?
Well of course. They wouldn't have done it if I would have disagreed. It was all of our idea. I was my idea. Different names were tossed around and the only two people I would give my blessing too were Philip and Randy. Those are two friends of mine. They're great singers, both of them. It wasn't hard at all in one way because I want me, personally, wanted the band to carry on and not have to wait for me.
At the time that happened, which was last year, basically one year ago, I didn't know (when Randy sang) if I was going to live. So I had no clue. That was me kind of saying yeah, let's get Randy to do it this tour and just keep going on and I'll be back when I can. Everybody was sad about it, but it just made sense to keep the band moving.
We also all have this positive idea that everything is going to be fine. Even though I was facing an eminent demise, I was also positive that I would live through it and I did. The band that they toured with, Discharge, they're one of my favorite bands ever of the old punk rock days. That's what hurt the most, that I didn't get to tour with one of my favorite bands. Jimmy and them, those guys are friends with them now so hopefully we can get to do that in the future again.
It sounds like there's going be some more touring this year. I know you talked about a big anniversary that's going to be coming up next year so I'm sure there's a lot that's going to be happening, but is there other than these few days, anything big that you guys are talking about for 2017?
Really just getting back out there slowly, baby steps. Even though I'm confident and I know this is gonna be great, fun and it's gonna be great. We're all going to our very best. We're just doing a few shows now and then later in May we've got some stuff planned for Texas and we're gonna get down there and play. We're working on some other stuff now, nothing is set in stone quite yet but we're working on it.
So happy to hear your voice, happy you're doing well.
Thanks to Mike IX Williams for the interview. To assist the singer with mounting medical bills, fans can make a donation at the dedicated YouCaring page and to stay up to date with everything Eyehategod are up to, follow the band on Facebook. Find out where you can hear Full Metal Jackie's weekend show at this location.  
See Eyehategod in the Top 25 Extreme Metal Albums of All Time
See Eyehategod With Lamb of God's Randy Blythe in 10 Epic Fill-In Performances
More From Classic Rock Q107