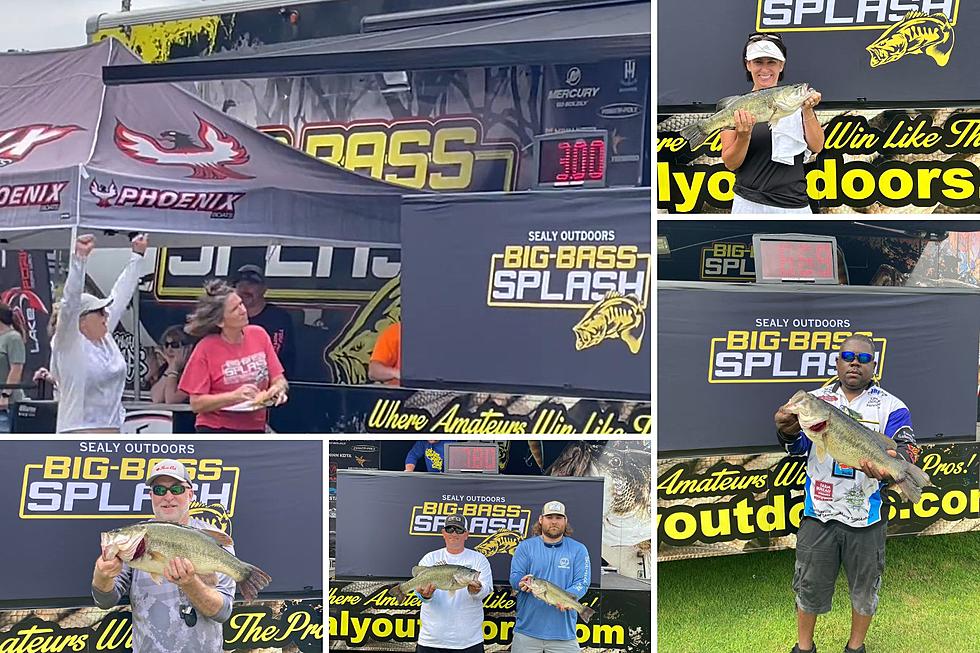 Check Out These Money Fish from Big Bass Splash on Toledo Bend
KICKS 105
The 2023 Sealy Outdoors Big Bass Splash on Toledo Bend Reservoir is in the history books. Ray Albritton of West Monroe, Louisiana brought in the winning fish during the very last hour of the three-day tournament.
This marks the second straight time that this has happened in a Sealy Outdoors tournament. It was only a few weeks ago during the Big Bass Splash on Sam Rayburn that Kevin Creel brought in a bass that weighed 9.67 pounds. That fish was brought in with under 30 minutes remaining in the tournament.
Ray Albritton said that he was only going to do one more cast before calling it a day, and that's when the monster bass hit his line. Albritton was able to reel in the fish and brought it in to be weighed at Cypress Bend Park.
The bass weighed 10.04 pounds, better than a pound more than the second-place finisher. Albritton won all of the following for catching the biggest bass of the tournament:
A Phoenix 721 Pro XP Bass Boat powered by Mercury, equipped with Minn Kota, Hummingbird, Navionics, and Power Pole. Along with the boat, he also won a new Dodge Ram Truck as well as $5,000 cash.
This is the second time in the last ten years that Albritton has claimed the grand prize at a Sealy Outdoors Big Bass Splash. Here's a look at the overall top-five standings.
Ray Albritton, West Monroe, LA - 10.04
Bobby Henderson, Stonewall, LA - 8.86
Clay Carpenter, Pasadena, TX - 8.74
Cameron Head, Tenaha, TX - 8.42
Robert Watkins, Carencro, LA - 8.30
Sealy Outdoors will now be heading to Guntersville, Alabama for their next Big Bass Splash before taking a Summer break. Then, they'll be back with the annual Fall Shootout in October on Sam Rayburn.
Here's a look at some of the money fish from the Toledo Bend tourney.
2023 Big Bass Splash on Toledo Bend
Ray Albritton of West Monroe won the Big Bass Splash with a 10.04 fish. Here's a look at his fish and many other 'hogs' that were caught during the three day tournament
2023 Big Bass Splash Sam Rayburn
Here are some of the enormous bass and other notable moments from the 2023 Big Bass Splash on Lake Sam Rayburn