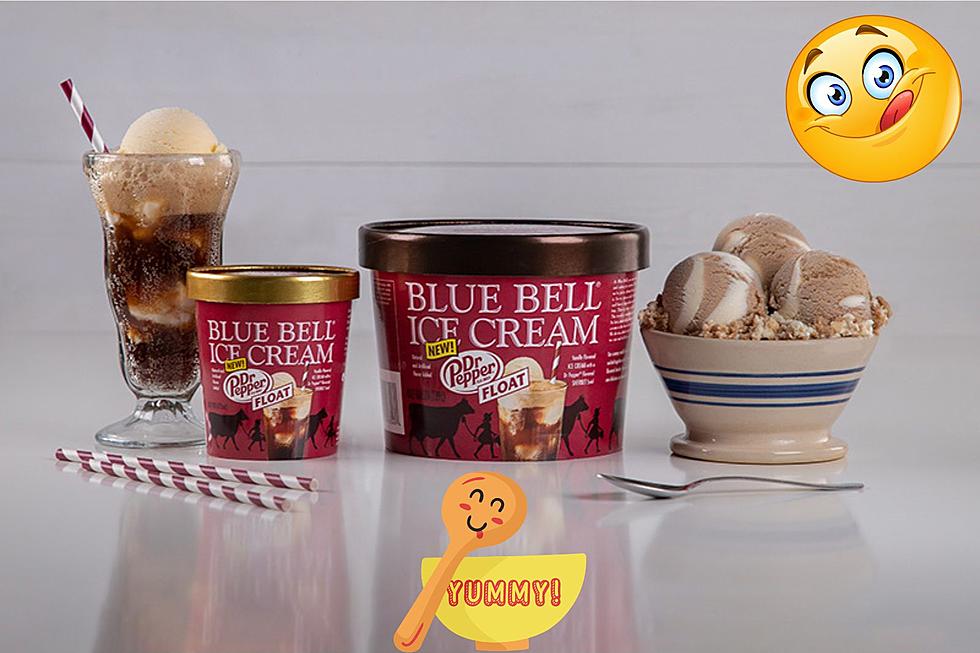 Rejoice Texas! Dr Pepper Float Ice Cream From Blue Bell is Here
Contributed Photo/Blue Bell/Canva
Summertime is fast approaching. That means the school semester is coming to an end, hotter weather is on the way, and if my memory serves me correctly, it seems that the folks at Blue Bell in Brenham usually introduce a new ice cream flavor around this time.
The New Flavor Is...
Dr Pepper Float!!
The little creamery in Brenham has taken two iconic Texas brands, Blue Bell and Dr Pepper, and created one delicious ice cream, Dr Pepper Float. The new flavor starts arriving in stores today (May 18).
Dr Pepper Float is creamy vanilla ice cream swirled together with a Dr Pepper-flavored sherbet.
"The best ice cream floats are made with Dr Pepper poured over a few scoops of Blue Bell," said Jimmy Lawhorn, Blue Bell Vice President, Sales and Marketing. "Why not put a spin on this popular treat and create our own version? The flavor of Dr Pepper and texture of the sherbet combine perfectly with the smooth vanilla ice cream. You may find yourself reaching for a soda glass instead of a bowl."
It's Gonna Be Around for a While
As much as Texans like their Dr Pepper and Blue Bell, I wouldn't wait too long to get to your favorite grocer and stock up. The great news is that Dr Pepper Float will be available in the pint and half-gallon sizes through 2024.
"Our Texas heritage is so important to us at Dr Pepper, and we are excited to team up with fellow Texas-born brand, Blue Bell, to create this new delicious treat," shared John Alvarado, Senior Vice President of Dr Pepper Brand Marketing. "We can't wait to provide our fans with another refreshing way to enjoy Dr Pepper."
Blue Bell Facts
Blue Bell was founded in Brenham in 1907
Despite being sold in only 23 states, Blue Bell is a top-selling ice cream manufacturer in the U.S.
Blue Bell offers more than 40 ice cream flavors as well as frozen snack items
Blue Bell has production facilities in Brenham, Broken Arrow, Oklahoma, and Sylacauga, Alabama
All The Flavors of Blue Bell Ice Cream
From the year-round flavors to the rotational flavors, here are the delicious flavors offered by the Little Creamery in Brenham, Texas - Blue Bell Ice Cream. Most of these are available in the half-gallon container, while some rotational flavors are only available in the pint container.
Burial Sites of Honored Texans
Since its statehood in 1845, Texas has been the home of thousands of honored and well-known men and women. Let's take a look at the final resting place of these men and women, as well as a world-famous bull and rumored extra-terrestrial.