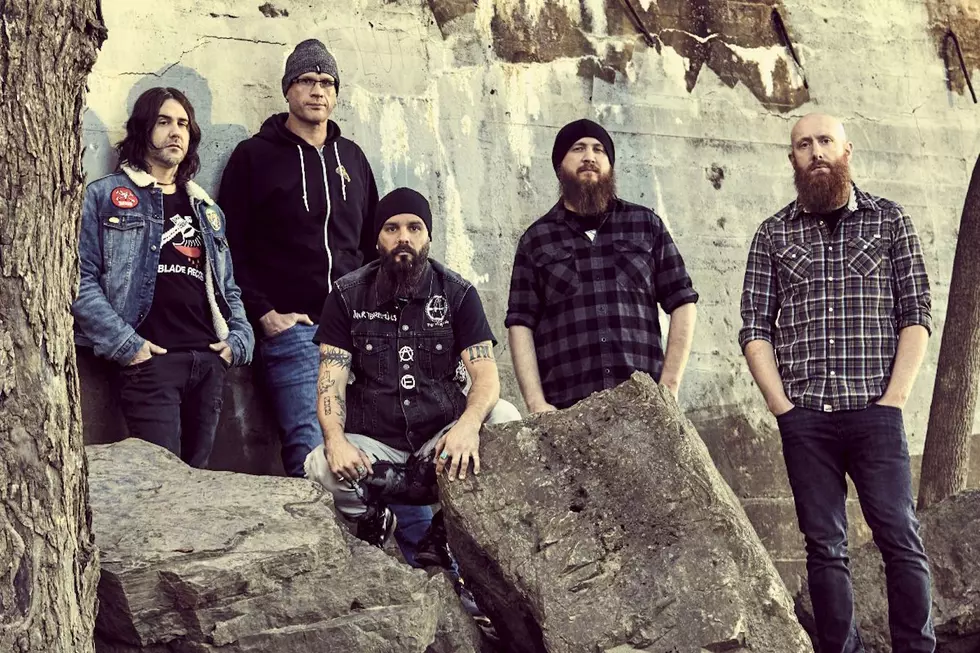 Killswitch Engage Announce 2020 Tour With August Burns Red [Update]
Travis Shinn
Update: Killswitch Engage have added Light the Torch, featuring former vocalist Howard Jones, to their March run.  "We are excited to bring out Light the Torch, first of all, because they are a killer band," says singer Jesse Leach. "Obviously, having Howard out with us allows us to make this a tour to remember. I've always respected Howard as a singer, but in recent years, he's become a friend. So it means more to me now than it would have in the past. We are happy to see him back up on the good foot and singing his heart out again in top form. With both August Burns Red and Light the Torch, there will be no punches pulled. Just a killer lineup. Fans won't want to miss this tour. You will want to come early and stay late. All hails." Jones added, "We are truly excited to be a part of the Atonement Tour with KsE and ABR. This one has it all — old friends, new music, good times. Forget the world for a night and come hang out with three bands that want to make memories with you!"
An essential metalcore tour is going down next year, as Killswitch Engage will hit the road with August Burns Red. The month-long run will trek across North America beginning in March 2020.
Killswitch Engage are still riding high from their 2019 album, Atonement, which proved to be the most dynamic release of their career. August Burns Red's most recent record, Phantom Anthem, was extremely well received after its release in 2017, nabbing them a Grammy nomination for "Invisible Enemy."
The U.S. and Canada will get a piece of the tour once it begins on March 10 in Cleveland, finally wrapping up April 12 in Boston.
"It sucks, but it's my muse," KSE vocalist Jesse Leach recently told us of his relationship with dark times. "Having a mental illness, you don't want to be depressed but if you didn't have that disorder you wouldn't be as creative as you are. Most creative people have that shift, that issue, that mental illness and it's a blessing and a curse. You just have to learn how to wrestle with it, how to deal with it. Thankfully over the years through being open and having a conversation about it and seeking alternative therapies and exercise and diet even, you learn how to manage it."
Check out the full list of tour dates below. Tickets will go on sale this Friday (Nov. 8).
03/10 - Cleveland, Ohio @ Agora Theatre
03/11 - Grand Rapids, Mich. @ 20 Monroe Live
03/13 - Philadelphia, Pa. @ Franklin Music Hall
03/14 - Silver Spring, Md. @ The Fillmore Silver Spring
03/15 - Raleigh, N.C. @ The Ritz
03/17 - Atlanta, Ga. @ Tabernacle
03/18 - Lake Buena Vista, Fla. @ House of Blues
03/20 - Dallas, Texas @ South Side Ballroom
03/21 - Houston, Texas @ House of Blues
03/23 - Tempe, Ariz. @ The Marquee
03/24 - Los Angeles, Calif. @ The Wiltern
03/25 - Riverside, Calif. @ Riverside Municipal Auditorium
03/26 - San Francisco, Calif. @ The Warfield
03/28 - Seattle, Wash. @ Showbox SODO
03/29 - Garden City, Idaho @ Revolution Concert House
03/31 - Salt Lake City, Utah @ The Complex
04/01 - Denver, Colo. @ The Fillmore Auditorium
04/03 - Minneapolis, Minn. @ The Fillmore Minneapolis
04/04 - Chicago, Ill. @ Radius
04/05 - Detroit, Mich. @ The Fillmore Detroit
04/06 - Toronto, Ontario @ Rebel
04/08 - Montreal, Quebec @ MTelus
04/10 - Portland, Maine @ State Theatre
04/11 - New York, N.Y. @ Terminal 5
04/12 - Boston, Mass. @ House of Blues
25 Best Metalcore Albums of All Time
More From Classic Rock Q107