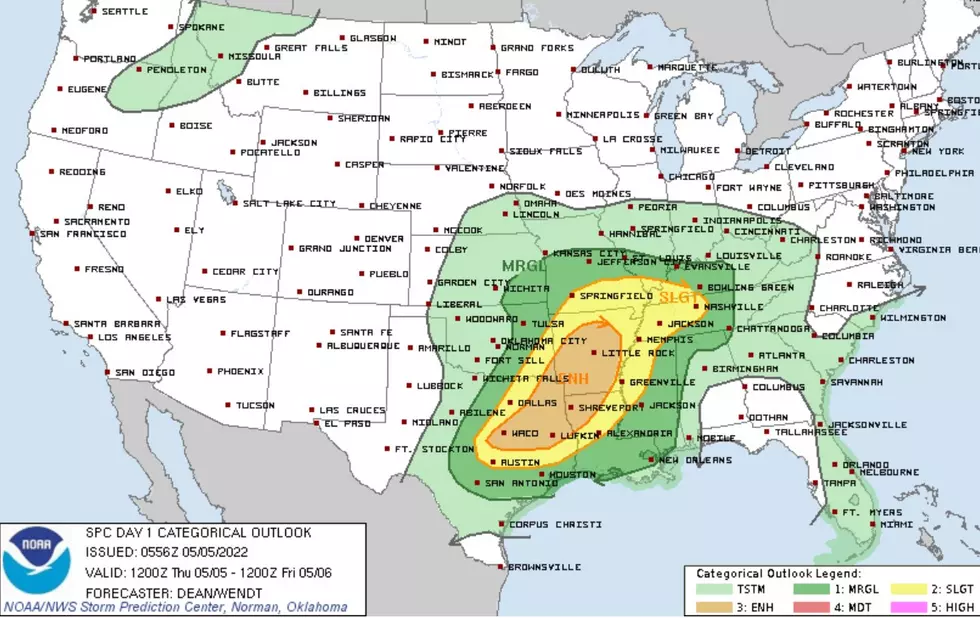 Lufkin, Nacogdoches in line for Severe Storms, Then Record Heat
NOAA
The threat of severe weather in Deep East Texas has returned.  During portions of March and April, it seemed that we were getting hit by strong to severe storms every week, but we've had a bit of respite over the past few weeks.  Today (Thursday), however, that breather is over.
According to the latest severe weather forecast from the Storm Prediction Center in Oklahoma, a large portion of the Pineywoods, Lufkin and Nacogdoches included, is highlighted as an area that has the highest probability of severe weather across the U.S. today. Damaging straight-line winds gusting to 75 mph, quarter-sized hail, localized flooding, and yes, even tornadoes are in the mix.
Severe Weather Map
Tornado Map
Here's the good and bad of what is expected with our East Texas weather today:
Bad news - as mentioned, all forms of severe weather are possible (hail, winds, extreme downpours, and tornadoes)
Good news - The severe weather is expected to happen across the Pineywoods during daylight hours.  Severe weather at night is a more dangerous scenario.
Bad news - Yes, during daylight hours, but, many models are showing the nasty weather should be hitting us around the time that schools are letting out today, (between 1-5 pm).
Good news - Once the severe threat passes late this evening, no rain is in the forecast through most of next week, just lots of sunny weather.
Bad news - We will have close to record-setting heat from Saturday through much of next week.  Our high temperatures (mid-90s) will be running about 10-15 degrees above normal.
Be safe today and if possible, try to avoid being out and about this afternoon and evening when the storms are expected to hit.  Download our KICKS 105 App to have weather alerts sent to your smartphone.
$2 Million Home on Eagle Point Lane in Hemphill
Check out the gorgeous views and luscious amenities of this $2 million dollar home that's listed for sale through Allman Company Realtors.
More From Classic Rock Q107