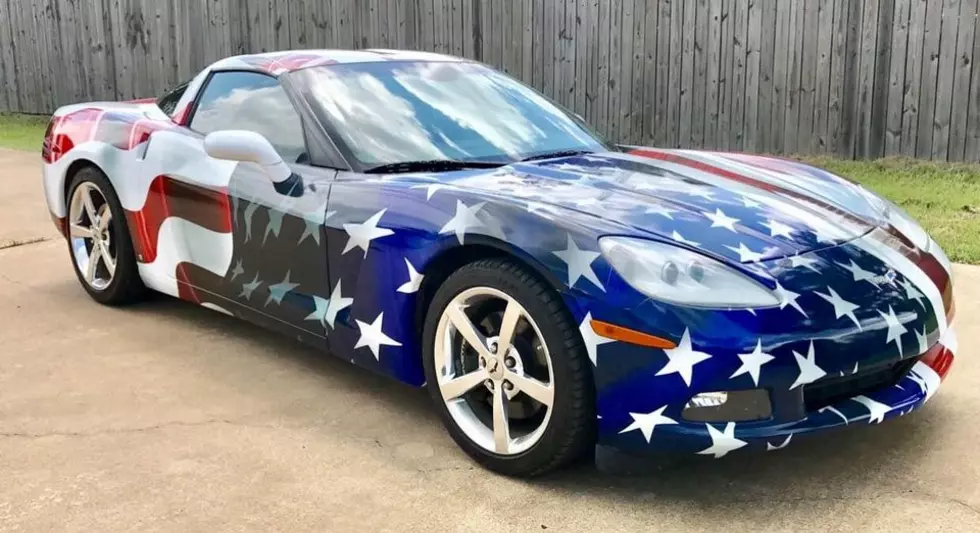 Make It A Patriotic Corvette Summer This 4th Of July In Rusk, Texas
Shay Summers Mueller via Facebook Marketplace
Nothing says 'Merica like this 2009 Chevrolet Corvette with a United States Flag wrap. I don't know if all 50 stars and 13 stripes are represented, but it looks perfect.
I keep seeing this pop up on my market place and it just seems like the car to buy right before the 4th of July. With even 2020 C8 Corvettes still selling at or above MSRP, this might be the cheapest way to experience the crossed flags badged vehicles.
The asking price might even be less than you were planning on spending on fireworks this year if you are putting on a proper display. For just $22,000 you can buy this Corvette with 101,000 miles on the clock.
Feels Like The 4th Of July Every Day With This Corvette
If you were to one day remove (heaven forbid) this American Flag wrap, the Corvette would be white underneath. Either way, you keep the growl of that American V8 engine.
Though this is just the "base" model you still get 430 horsepower from the LS3 engine and a respectable 0-60 time of 4.4 seconds. Don't let the miles scare you off either, these are some of the most reliable engines on the road. Since they have been around a while, most shops will work on them and parts are usually obtainable.
Operational costs won't be astronomical either as this year's model of Corvette gets 26 MPG on the highway. Around town expect about 16 MPG.
The only proper finish for the wheels of a Corvette, such as this sixth-gen (C6) is chrome. This one has them of course. New C8 Corvette owners don't have that option, and many are sending their stock rims out to be chromed.
I can't think of one reason not to buy this Corvette if you have $22,000 lying around. It would be un-American not to. Just make sure your white, New Balance sneakers are clean when you show up to buy it.
Make It A Corvette Summer For The 4th Of July In Texas
This 2009 Corvette is right in the sweet spot of the C6 generation.
See Inside 'Merica Beverage Co. In Lufkin
This is where Dickey's Barbecue Pit was in the Medford Plaza. It has a great drive-thru and is easy to find.
Thunderstruck: The New Ford F-150 Lightning At Lufkin Ford
We caught lightning in a bottle and got up close and personal with this truck that hits all the marks.
More From Classic Rock Q107