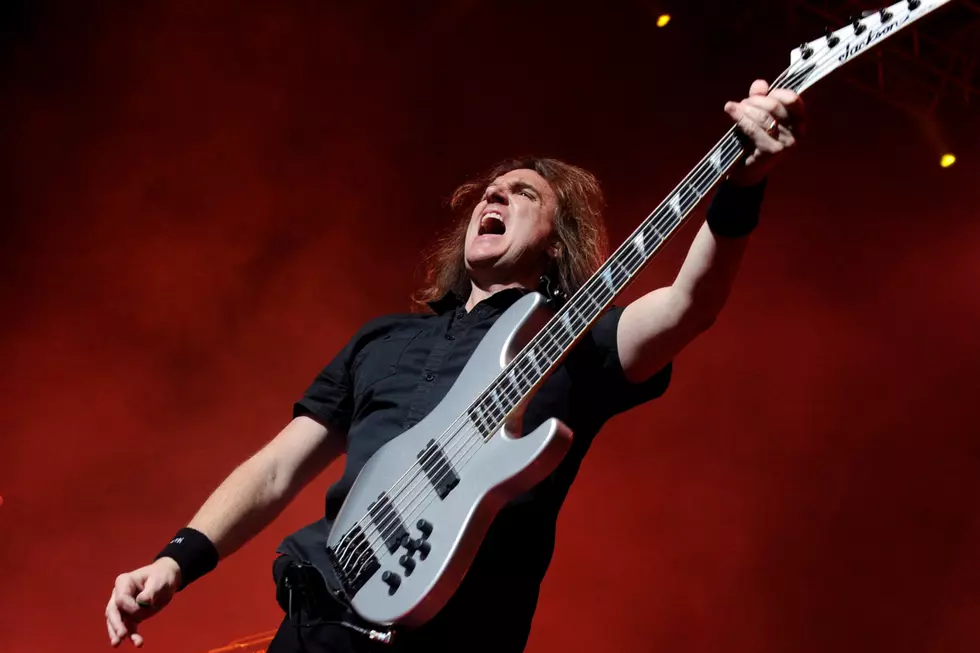 Megadeth 'Probably' Not Releasing a New Album in 2019
Kevin Winter, Getty Images
Megadeth were on our radar for a new album in 2019, but according to bassist David Ellefson, they probably won't release it this year. He recently spoke with Detroit's WRIF station about its postponement and assumes the band will deliver a new record at the top of 2020.
Megadeth's last release was 2016's Dystopia, which won them a Grammy for Best Metal Performance the following year. They planned to begin working on the next album at the beginning of 2018, following Dystopia's tour cycle. "Probably our biggest challenge is we don't live in the same cities...Nashville is kind of the creative hub of our operation, where we release and we do everything. We did only about eight weeks of shows last year that kind of came up, Europe and Mexico and stuff," the bassist says.
He then reassures that the band is organized and on top of their files, as they all share a Dropbox folder. The postponement of their tour with Ozzy Osbourne to 2020 will hopefully allow them the time they need to get as much of the new material finished as they can. "All things happen for a reason, so I think on the Megadeth schedule...we're gonna definitely be really hunkering down now to get that going," he explains.
Citing the schedule the band was on when working on Dystopia, Ellefson assumes it'll be similar this time around: "As much as we were hoping to have a record out this year...sometime probably early 2020 is my thought that that's probably when the record will be ready to come out." Dave Mustaine did say in March that he has eight songs written for the new record, so maybe things will move faster than Ellefson assumes. Time will tell. Listen to the full interview below.
More From Classic Rock Q107