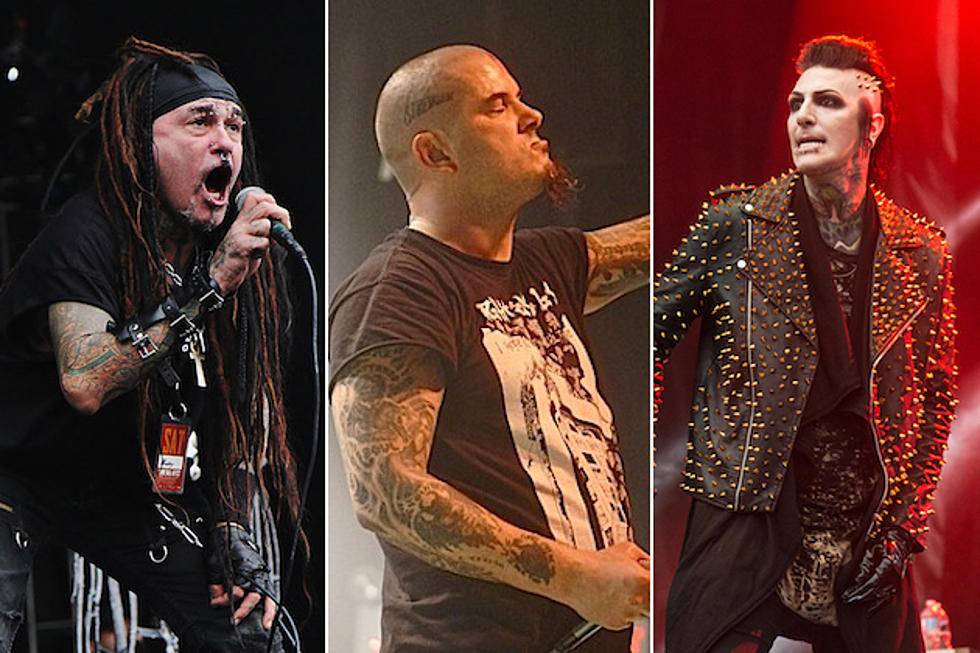 Ministry, Superjoint + Motionless in White Lead 2017 Rock and Shock Lineup
Liz Ramanand / Spencer Kaufman / Amy Harris, Loudwire
Every October, the Rock and Shock festival aligns some of rock and metal's best with horror icons for a unique event just in time for Halloween. This year will follow suit and the first wave of performing acts have been announced with four first-time guests as well as six bands who have played the festival before.
Ministry, Superjoint and Motionless in White are all among the top of the bill for the three-day event which will be held at The Palladium and DCU Center in Worcester, Mass. between Oct. 13 and 15. The first night will feature Ministry as well as Death Grips (both bands will be on a fall co-headlining tour) in addition to Cro-Mags legend Harley Flanagan with Devlyn Sydus rounding out the first day's announcement thus far.
The second night will feature Superjoint, Motionless In White, The Amity Affliction, DevilDriver, The Rocking Dead, Miss May I, Haddonfield, King Parrot, Cane Hill, Child Bite and The Last Day. The final day of Rock and Shock boasts Twiztid, Blaze Ya Dead Homie, Whitney Peyton and Andrew W. Peyton.
As for the horror aspect of the fest, James Remar (Ajax from The Warriors), Pollyanna McIntosh (Jadis from The Walking Dead), makeup and effects artist, actor and director Tom Savini and more will all be in attendance.
More announcements will be made in the near future and for more information on Rock and Shock, head to the festival's website.
2017 Guide to Rock + Metal Festivals
Where Do Ministry Rank Among the 10 Greatest Industrial Rock + Metal Bands?
More From Classic Rock Q107