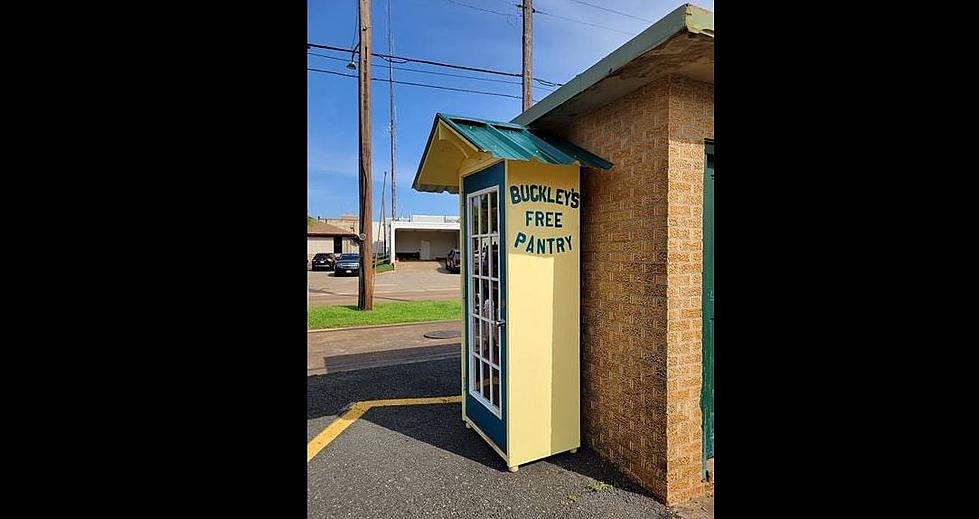 Neighbors Help Neighbors With The Little Free Pantry In Nacogdoches, Texas
Nacogdoches Farmers Market via Facebook
The Nacogdoches Farmers Market has opened Buckley's Free Pantry.  It's in Nacogdoches at The Old Hitch Lot where you normally find the Farmers Market set up at 107 Pearl Street.
It was put there to address the shame that sometimes accompanies need in our community. You are asked to only take what you need, and give what you can. It is truly neighbors helping neighbors.
It got its name as a memorial to "Buckley" who was a champion of the Nacogdoches Farmers Market and helped bring it back with Tracy and Merci Nicklas.
How To Help Stock Buckley's Free Pantry in Nacogdoches, Texas
Some food pantries are more like service providers. They call the people that use their services "clients". This one is taking a drastically different approach to help those that might otherwise fall through the cracks, as it not only provides food but other household and essential items.
There are no applications to fill out to receive items from the little pantry. Take what you need on the honor system, and put items in the pantry the same way. 
Don't place anything in the pantry that needs refrigeration. Here is a list of ideas for items to put inside this little pantry.
Proteins
Canned Meat/Fish
Nut Or Seed Butters
Shelf Stable Cheese
Jerky/Beef Sticks
Nuts Or Nut Mixes
Protein Bars
Fruits And Vegetables 
Apple Sauce
Fruit Sauce
Dried Fruits
Canned Fruits
Fruit Leather
Canned Vegetables
Pizza Sauce
Baby Food
Onions
Potatoes
Grains And Bread
Pasta
Tortillas
Rice
Dry Or Canned Beans
Cereal
Granola Bars
Crackers
Rice Cakes
Flour
Cornmeal
Instant Oatmeal
Rolled Oats
Beverages 
Shelf Stable Milk Products
Almond Or Soy Milk
Powdered Milk
Evaporated Milk
Water Bottles
Juice Boxes
Tea Bags
Coffee
Pet Items
Cat Food
Cat Litter
Dog Food
Dog Treats
Canned/Boxed Goods
Soups
Broth
Chili
SpaghettiO's
Ravioli Heat And Eat Meals
Ramen
Cup O' Noodles
Macaroni And Cheese
Instant Potatoes
Household/Other
Wrapped Plastic Silverware
Trash Bags
Dish Soap
Laundry Soap
Paper Towels
Aluminum Foil
Baggies
Can Openers
Socks (all sizes)
Other Food Items
Salt
Cooking Oil
Baking Powder
Sugar
Spices
Sauces
Sauce Packets
Gravy Mix
Dressings
Mayonnaise
Cookies
Jelly
Cake Mixes
Baby Items
Diapers
Baby Wipes
Formula
Baby Food
Diaper Rash Cream
Baby Shampoo
Toddler Snacks/Puffs
Hygiene 
Soap
Toothbrushes
Dental Floss
Deodorant
Pads/Tampons
Toilet Paper
 Wipes
Shampoo
Lip Balm
Kleenex
Band-Aids
Depends
Lip Balm
Children
Bubbles
Sidewalk Chalk
Playdough
Individually Bagged Treats
Pencils
Note Pads
Do Not Leave List
Opened/Used Items
Any Items Needing Refrigeration
Razors (or anything sharp)
Matches/Lighters
Anything Expired or Rusty
Go Green WIth The SA Juice Truck In Lufkin, Texas
The green on the outside of this food trailer might clue you in on all the amazing drinks and good for you salads and treats.
Look Inside This Quaint Bookstore In Sulphur Springs, Texas
If you ever make it to Sulpher Springs, Texas stop into this independent book store full of books signed by the authors.
Diboll, Texas House For Sale With Two Barns And A Waterslide
This custom three-story home in Diboll has two huge barns and a pool with a slide.
More From Classic Rock Q107