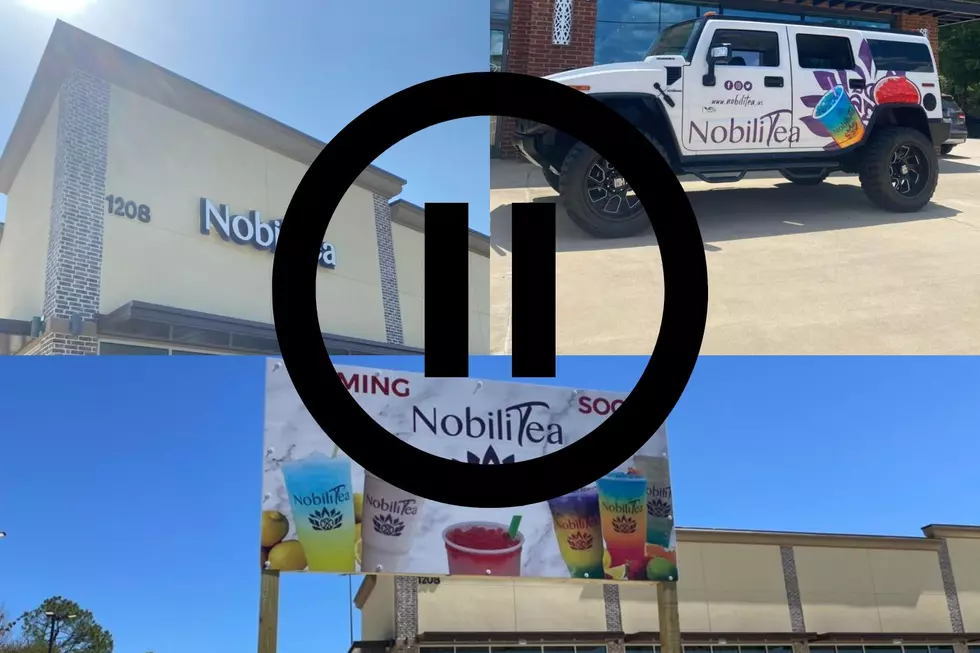 Nobilitea Grand Opening Postponed In Nacogdoches, Texas
Nobilitea Nacogdoches via Facebook/Canva
It was finally tea time in Nacogdoches this weekend, but the recent, much-needed rain has put a damper on the festivities. Their location at 1208 North University Drive has suffered a bit of damage, but repairs are underway.
Due to the rain, they found out the hard way that their roof wasn't ready for the inches of rain that we got. It had been so dry lately who would have even known, right?
They will have to address some roofing and plumbing issues before they can have the proper grand opening that they wanted. To be safe they have pushed their grand opening off by a week.
When Is The Grand Opening Of Nobilitea In Nacogdoches, Texas
According to the Nobilitea Facebook page, the drains on the roof were backed up and overflowing. It was raining inside the store.
They are working with the owners of the building to get the issues resolved. Now the grand opening will be on Saturday, September 3rd, 2022.
They should have some good news soon about the kickoff this Saturday. Keep up with them on Facebook for more details.
Grand Opening Postponed But Still Going As Planned At Nobilitea Nacogdoches
The first 50 people in the doors when they open at 8 am on Saturday 9/3 get a free $25 Nobilitea gift card. All of their products are 15% off all day during the grand opening.
Every purchase you make during their grand opening will enter you into a drawing for free tea for a year. You will also be entered into a drawing for three $100 gift cards.
If you load $30 on a gift card they will add $5 free that day, and all of their TEAnies are buy one get one half off.
Old Town Rig Down Comes To Nacogdoches, Texas
Big Rigs have never looked better. See a preview of some of the trucks that will be in downtown Nacogdoches, Texas on September 16th and 17th 2022.
Get Your Own Zip Line Amusement Park In Nacogdoches, Texas
Two stocked ponds, two main houses, and an entire zip line park could be all yours at this property in Nacogdoches, Texas
Luxury Estate Sale In Nacogdoches, Texas
This estate sale has tons of items that you might already collect.
More From Classic Rock Q107