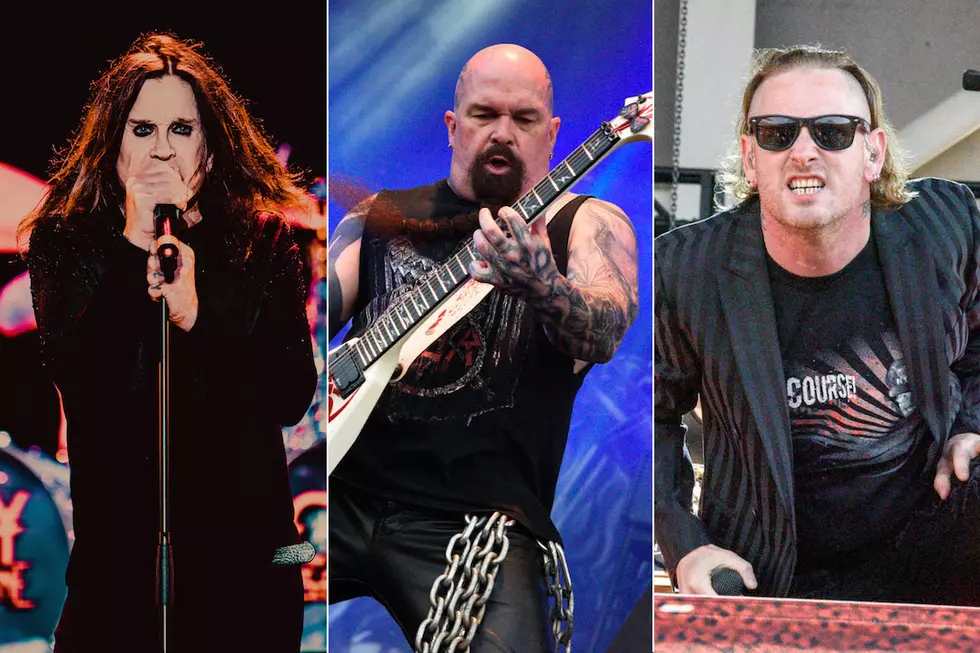 Ozzy Osbourne, Slayer, Stone Sour, Lamb of God + More Bring Punishing End to Chicago Open Air 2017 on Day 3 [Photos]
Steve Thrasher / Evil Robb Photography, Loudwire
After Saturday night wrapped up, the forecast called for thunderstorms to plague the final day of Chicago Open Air, which indeed did save the best for last. Titans Ozzy Osbourne (freshly reunited with Zakk Wylde), Slayer, Stone Sour, Lamb of God and more were all poised to leave the festival crowd fully drained of any headbanging capabilities.
Mercifully, the skies were devoid of dark grey clouds that were slated to threaten the fest (maybe Amon Amarth's set put some fear into Zeus, sparing us from lightning bolts raining down) and Aversed opened up Sunday with an energetic set of melodic death metal. Whores' punked up hardcore was an extra dose of caffeine for a crowd slightly reeling from two days of raging and DED were the closest thing to thunder early in the afternoon.
Demon Hunter offered something for fans on both the rock and metal sides as they alternated favorites with new offerings in "Cold Winter Sun" and "Trying Times" off Outlive. Fans eagerly made their way back and forth between the two stages and it was apparent that the Chicago attendees had turned out not just to see a handful of their favorites and socialize as is often common at fests, but to watch as many acts as possible.
Fans were representing every band on the bill with either newly purchased merch or shirts that had been pulled out of the drawer dozens of times. Regardless of what style was being played, there was nothing but overwhelming support, even from those who had opted for a more leisurely look at groups from the angled lawn in the distance. The grass was a little more empty as fans rushed closer to the stage for two of the more groove-laden sets of the weekend delivered by DevilDriver and Hellyeah. Meanwhile, Kyng offered some sunny-day rock 'n' roll, even calling out a fan for looking bored up front, joking that they were waiting for Behemoth.
Sweden's resident vikings Amon Amarth brought the best stage show to Chicago Open Air, positioning their Norse, dragon-headed longship in the middle of the floor with the drums placed onboard. As the imposing figure that cleaved the stage breathed smoke, plumes of fire shot skyward in time with Amon Amarth's arena-born death metal. Throughout the set, viking warriors did battle onstage and this set was easily among the fest's highlights.
Sunday also featured the summer's most devastating tour package (Slayer, Lamb of God and Behemoth) bundled into the fest. Behemoth took the second stage which was bookended by goat-faced pentacles, a perfect match for their blasphemous set. The Polish group tore through a Hell-raising set draped in their usual war-torn post-apocalyptic garb, obliterating a crowd with their brief but flooring set. Lamb of God and a high-flying Randy Blythe came up next on the main stage, opening with "Laid to Rest" and closing with the punchy "Redneck."
With three acts left, Stone Sour followed Lamb of God and were met with "F--k Nickelback" chants between "30/30-150" and "Bother," getting a good laugh from Corey Taylor as he reveled in his fans taking his side in the Stone Sour / Nickelback feud.
Closing out the second stage were Slayer, who brought plenty of pyro with flames shooting from side angles above the stage and further upward. As they ran through time-honored classics like "War Ensemble," "Born of Fire," "Mandatory Suicide," and, of course, "Raining Blood" and "Angel of Death," more fire poured out from the sides of the stage, bringing everyone in attendance one step closer to Hell.
As the sun went down, the Prince of Darkness, Ozzy Osbourne, stepped out to perform just his second show with Zakk Wylde back at his side. Rounded out by Blasko (bass) and Tommy Clufetos (drums), the band walked onstage and Ozzy addressed the crowd before Wylde ripped into the jolting opener, "Bark at the Moon." Ozzy was in fine form vocally as fans devoured Randy Rhoads-era jams in "Mr. Crowley," "I Don't Know" and "Suicide Solution" early on. With four Black Sabbath songs peppered into the set, Wylde put his trademark spin on them with an extended version of "War Pigs" which saw the axeman step out onto the catwalk dividing the floor, playing a solo with the guitar behind his back and even while walking back up the stairs to the stage. It was an impressive feat as Wylde didn't even look at his guitar for minutes on end, showcasing why he's among the best shredders in existence.
Wylde was using his own line of signature Wylde Audio guitars and cabinets, which gave an extra roar and riffing muscle to "No More Tears" especially. "Crazy Train" closed out the standard portion of the set, which was then quickly followed by "Mama I'm Coming Home" and Sabbath's "Paranoid," signaling an end to Chicago Open Air 2017!
Scroll through the gallery at the top of the page to see all the action from Day 3!
More From Classic Rock Q107