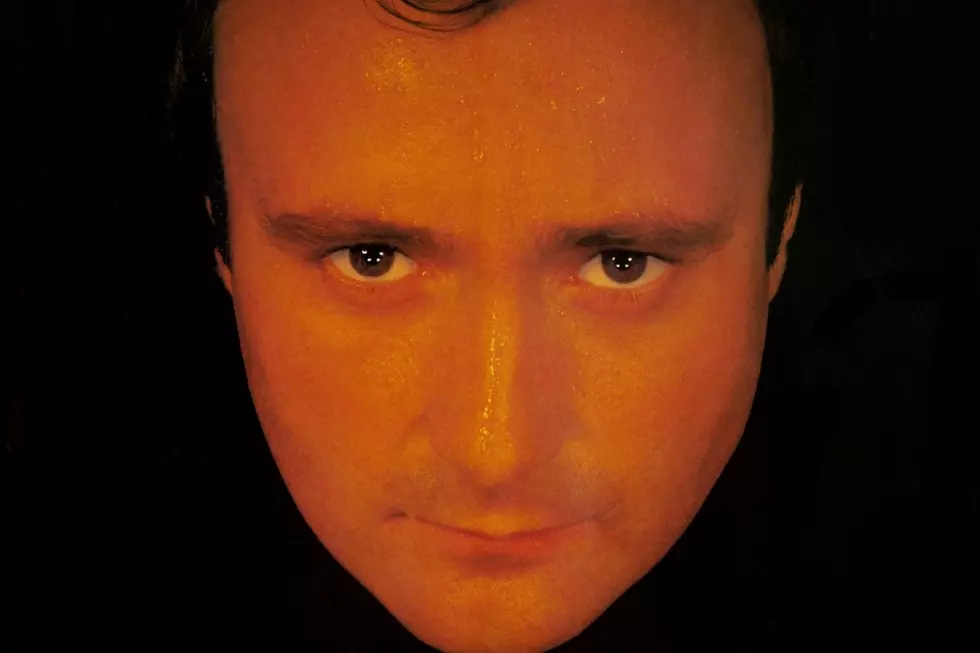 How 'No Jacket Required' Sent Phil Collins Into the Stratosphere
Atlantic Records
By the mid-'80s, Phil Collins already had a pair of Top 10 solo albums to his credit, plus his day job in a little band called Genesis. But on Feb. 18, 1985, he truly started the leap from "rock star" to "worldwide superstar." That's the fateful day that found Collins returning to record stores with his third solo collection, No Jacket Required.
Despite its unassuming title and album artwork, it would ultimately go down as the sixth best-selling LP of 1985. Before the year was out, Collins added four more Top 10 singles to his rapidly expanding list of hits, played concert sets on two continents in a single day, and blanketed radio and MTV with his voice and signature drum sound.
Between No Jacket Required, the return of Genesis the following year with Invisible Touch and his always-busy studio and production schedule, Collins was a ubiquitous presence for a few years – a state of affairs that truly began in earnest with this album, which coupled a quartet of thoroughly radio-ready singles with a set of videos that took full advantage of his sense of humor and evident ease in front of the camera.
First, however, he needed the songs. Following a pattern that continued throughout his solo career, Collins started the process by recording a series of meticulous demos in his home studio so that – as he told Hi-Fi News & Record Review – by the time he got down to the business of officially recording his new songs, "I'd already done the difficult stuff at home. I just went in there, copied my demos to 16-track and got a few friends in to play."
Collins being who he was, "a few friends" included some of the biggest rock stars of the '80s. "I'd worked with Peter Gabriel not long before, so I got him and Helen Terry to come and sing on 'Take Me Home,'" he recalled. "And Sting sang on 'Long, Long Way to Go' with me, because we'd just done Band Aid together."
Watch Phil Collins' 'Take Me Home' Video
Meanwhile, a night out with another famous friend, Robert Plant, ended up inspiring the album's title. Denied entrance to the Chicago eatery the Pump Room because he wasn't wearing a dinner jacket, an annoyed Collins decided to exact his revenge by naming what ended up being a 12-times platinum smash in derisive honor of the evening's events. "I was dressed fairly smart," he told Playboy. "Proper trousers, not jeans, and a nice leather jacket – and I was told, 'Sir, you can't come in here without a jacket.' I said, 'I'm wearing a jacket.' ... To make a long story short, I was livid."
Collins handled the majority of the instrumental chores himself during the demoing process, but he needed a guitarist, and he ended up filling the void by reaching out to Genesis sideman Daryl Steurmer.
"He called me at one point and said that he had some songs written for a new album. This was back in 1984," Steurmer later recalled, laughing that Collins' lack of proficiency with Steurmer's instrument ended up impacting his career. "He hadn't finished all of the songs for the album. Some of the songs were halfway done and some of the songs were totally finished. He asked me if I could come over to do the demos with him because he didn't play the guitar. Thank God he doesn't play guitar."
Always comfortable with ballads, Collins highlighted his softer side on No Jacket Required, but he also made a point of leaning on his R&B influences – both on quieter cuts like the album's first single, "One More Night," which he later said was sparked by a Jacksons song, and on uptempo sides such as the Prince-inspired "Sussudio."
"I set myself the target of writing things that I hadn't done much before," Collins explained. "I wanted it to be more dance-orientated."
Watch Phil Collins' 'Don't Lose My Number' Video
That blend of adult contemporary and pop sounds arrived at precisely the right time for radio, where No Jacket Required lobbed hit after hit for months – starting with "One More Night" (No. 1) in late 1984 and continuing with "Sussudio" (No. 1), "Don't Lose My Number'"(No. 4) and "Take Me Home" (No. 7). He even worked a rock hit into the mix ("Inside Out," No. 9). Coming halfway through a decade-long stretch in which Collins seemed to always be working either a solo record or a Genesis project, it took him to new commercial heights – and though Jacket remains his best-selling solo LP, the momentum he'd built leading up to it didn't truly taper off for years.
By the end of the '90s, Collins had come to be seen by many as a symptom of the evils of 'corporate rock' during the two decades before – an opinion that he eventually came to understand. "I can look back now and see how annoying I must have been to people in the '80s and '90s," he sighed in a 2011 interview. "I seemed to be everywhere."
For some Genesis fans, it eventually became tempting to wonder to what extent Collins' solo success contributed to his eventual exit from the band in the mid-'90s – not that his former bandmates ever seemed willing to begrudge him his decision to move on.
"He was our friend and we wanted him to be successful," countered Genesis keyboard player Tony Banks when asked for his feelings at the time regarding Collins' huge solo success. "Just," he laughed, "not that successful."
Steurmer, meanwhile, makes no apologies for the album's huge impact. "It's one of those where everything came in at the right time. The chemistry between the musicians and the people were good," he told Soul Culture. "For me, it's my favorite Phil Collins album of all time because there isn't one song that suffers. I can listen to that album from start to finish without skipping one song. I can't say that about a lot of albums. There are many artists that I love, but this one is hard to stop playing."
Phil Collins and Peter Gabriel Albums Ranked
They led Genesis through their most celebrated eras. Here's what happened next.
The 'Silly' Phil Collins Joke That Went Too Far
More From Classic Rock Q107