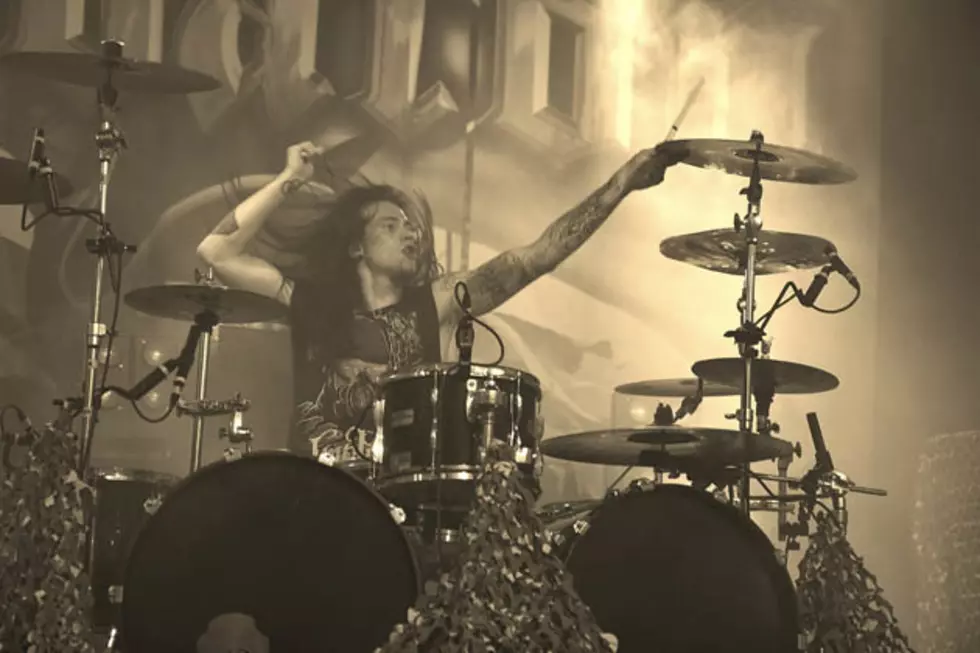 Sabaton Drummer Sitting Out European Tour to Welcome Child With Nightwish Singer, Replacement Announced
Liz Ramanand, Loudwire
As Sabaton continue their live crusade in support of The Last Battle, they'll look just a tad different onstage on their European tour with Accept and Twilight Force. Drummer Hannes Van Dahl will be sitting out the tour for some family time, temporarily replaced by Twilight Force's Daniel Sjögren, who will be pulling double duty nightly.
Van Dahl will be taking time off as he awaits the birth of his first child with Nightwish frontwoman Floor Jansen. The drummer released a statement (seen below) on Sabaton's website explaining his absence while expressing the utmost confidence is Sjögren to get the job done and instructing fans to give him a warm welcome.
Hello Everyone!

Time has come for me to travel homewards for a short while to be with and for my family, home in the north. My family on the road will have the miles pass underneath the busses and trucks as usual and the show will go on!

So, I hereby introduce you to a dear friend of ours: Daniel Sjögren! He is the sweetest of dudes and an excellent drummer! He was kind enough to help us out and will sit on my drum throne for a few shows until I'm back with my road family, brothers and sisters all over the world again!

Daniel has been rehearsing with Hannes and the Band for the last four weeks.

I'm a bit jealous of all you guys who's going to see him kill it every night:) Please give him your awesome warm "Sabaton Battalion" support, have fun and I'm looking forward to seeing you all very soon again!

Yours truly, The Vandahl
Twilight Force offered some words of their own on Facebook (seen below), stating, "While Sabaton drummer and our revered friend Hannes Van Dahl briefly bids us farewell from the tour to care for his oncoming offspring and family, we can bring you the exciting news that our very own De'Azsh will fill the Sabaton ranks as their skin punisher on this tour until Hannes returns. Our best wishes and arcane blessings to Hannes, and eternal empowering might to our own Soulseeker De'Aszh."
The trek, dubbed "The Last Tour," is not to be confused with a farewell tour from Sabaton as the name merely is a play on 2016's full length, The Last Battle. For a list of all tour dates, head to the band's website.
Top 66 Hard Rock + Metal Drummers of All Time
10 Greatest Power Metal Bands
More From Classic Rock Q107