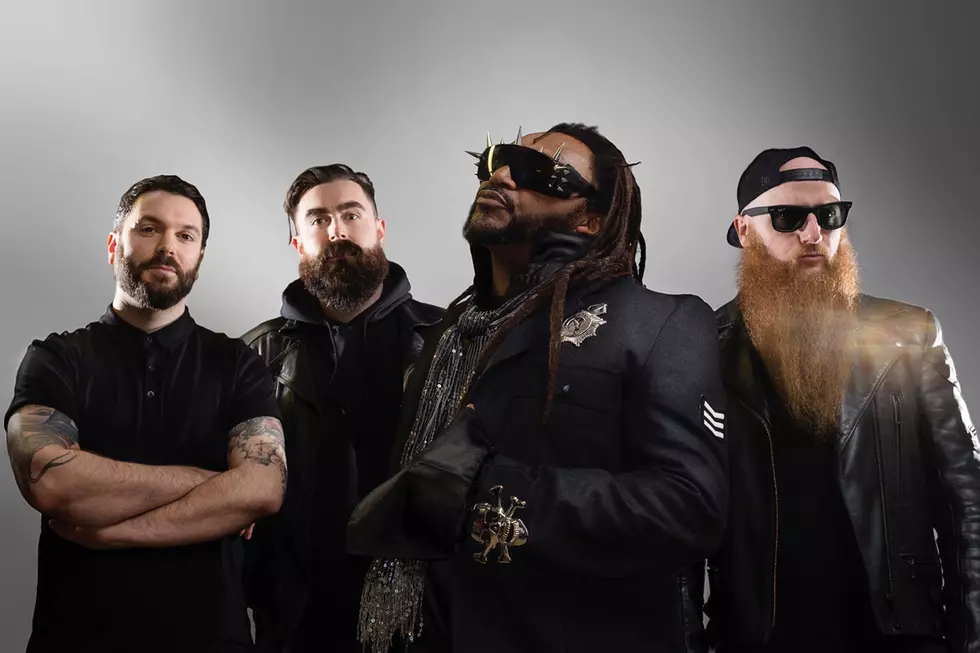 Skindred's Arya Goggin: 'Big Tings' Was a Mission Statement
Napalm Records
Big "tings" are afoot for Skindred. The veteran band released their seventh studio album Big Tings earlier this year and have started seeing some chart success off the singles "Machine" and "That's My Jam."
The disc has generated some of the most favorable reviews of the band's career and we recently had a chance to speak with drummer Arya Goggin about the prophetic album title, some of the key tracks on the disc and what it was like working out of Peter Gabriel's legendary Real World Studios. Goggin also discusses the guest turns of Motorhead's Phil Campbell and Reef's Gary Stringer, the emergence of a certain sunglasses-wearing cat and offers his dream tour bills as they try to line up their next U.S. trek. Check out the chat below.
Big Tings is not exactly the safest title for an album when setting expectations but I think time will prove out that this is one of the better albums of your career, making that decision to give it that title prophetic. Was there any apprehension on giving it that title or did you know after recording that in the history of Skindred that this album was special?
I wasn't phased about the title at all. It was my idea to call the record Big Tings before we had even written a note. While we were writing the album Mikey [Demus] came with the song "Big Tings" based on the title and it snowballed from there. I thought that having a strong title going in to the writing process would get everyone excited and spur us on.
For me Big Tings was a mission statement. It sounded positive and I thought It would go down well with people that knew our sense of humor. Skindred is a gang and always has been. Something special happens when we get together to write, record, play live or even just to hang out. We really wanted to write the biggest songs of our career so the title was fitting. There were some obvious concerns that we talked through, the old Spinal Tap "Shark Sandwich" simply referred to as 'Shit Sandwich" was one that we banded about a lot! You've just got to go with your gut though. We knew this record was going to be special and the title solidified that. It felt right.
For this album, you got to work out of Peter Gabriel's Real World Studios. For musicians, certain studios have a certain mystique about them. What made your time at Real World special and do you get into the history and legacy of places when choosing something like a studio to work at?
Real World was on our bucket list. It had been on our studio list since day one but the opportunity had never presented itself. It's an incredible space, and easily the best studio I have ever walked into, let along recorded in. The thing that sets it apart is the control room / studio A. It has natural light. A huge glass window stretches around the front of the studio from the floor to the ceiling and sort of wraps around the console. You have to google it! You are facing a pond! It's madness!
It sounds weird, but having a sense of time in a studio is something I've never considered before as it's dark all the time. It was great to do a working day, then relax and think about the songs after. It gave us perspective. We would start at 10AM and typically finish around 11PM. On past records we would work into the night, sometimes 4AM, and then start later the next day. But in Real World you felt like you were getting into a groove and it made everyone work to the same time structure.
Dan [Pugsley] and I typically like to record bass and drums during the day while we are fresh and Mikey is completely the other way. A total night owl! Benji [Webbe] is very flexible to be honest, and will sing at anytime, anywhere! The whole Real World experience was very relaxing.
We lived in the house together but there was enough space so we weren't in each other's pockets. We actually recorded Benji's vocals at Rockfield which has an unbelievable history -- Queen, Black Sabbath, Oasis, Sepultura, Manic Street Preachers, Motorhead -- all their classic albums were done in Rockfield.
I think it's vital when choosing a studio for it to have history. I mean, we are super fortunate that we have a choice in the matter. So many bands don't have that luxury, But for us it's always been a massive priority. Some bands would take a record company advance and pocket the money and scrimp on the album. We put everything into the record and usually end up owing money at the end of it! It's life experience, and that's the most important thing to us. It's so inspiring to know what was created in the same space you are about to record in. It's in the walls. It gets everyone excited, and that's when everyone brings their A-game.
The first single off the disc is "Machine," which has a pair of special guests. I'll first ask you about Gary Stringer from Reef. What is the connection there and how did you know Gary would be a great fit to sing on that track?
"Machine" originally came about from an early writing session and we sent it to Brian Johnson to see if he would guest on it. He's a fan of the band and our managers know each other well and we thought it would be rude not to ask. After a bit of back and forth with Brian it ended up that he couldn't do it for legal reasons. At this point we though the track was dead as it was written as a duet.
Our manager Seven, suggested Gary from Reef who we thought would be perfect. His voice is so on point and he has a true rock and roll spirit -- just a laid back dude into the music. We had a great time with him. I think he's very underrated in the rock world. He's one of those guys that sounds better now than he did 20 years ago! Myself and Mikey are massive Reef fans so were especially stoked! The funny thing about the track was that when it was done, Brian heard it with Gary on and flipped out! He loved it so much that he asked if he could use it for the theme of his TV show, which we of course said yes to!
You've also got Motorhead's Phil Campbell on guitar. I know Benji worked with him on his album and word has it he got paid in shoes. What type of shoes did he end up with out of that experience? And what does it mean to you to have Phil be part of this record?
(laughs) I heard that too. I'm not sure what kind of shoes Benji ended up with, but I know that they would have been statement pieces! Benji is not just a shoe collector, he's a clothing collector -- anything and everything, it's an addiction! I think he will need another house soon to house all his outfits! I love it. I think it's great. His stage clothes are amazing. He takes a real pride in it and draws from those old school performers. It's something thats sets him apart from others and is another reason why people want to see the band live. The show -- it's all part of it!
Phil is an old friend of the band, and for all of us it was such a privilege to have him on the track. The nature of "Machine" made it the perfect song to have a guitar solo on, and when Benji suggested Phil we were so into it! I remember Dan asking Benji, "Do you think he will be into it" and Benji replied, "The fucker owes me one!"
"Machine" has an amazing video stunt-wise. How enjoyable was it to kind of get to be background players in this clip and watching the action play out?
It was great not to be the sole focus of the video. The stunt guys were great. They had just come off the Avengers and Wonder Woman films so we knew they would be ace. We just sat in a bar and had a few drinks while these dudes were beating the snot out of each other.
Toward the end of shooting, it was getting rowdy and suddenly this one guy got his nose broken and all this blood went everywhere. Everyone stopped what they were doing and went "Oooooooooh!" It was sobering!
I've never really been a fan of actually making the music videos when we have to perform. It's a weird environment. I'm much more into the videos we are not in, like "That's My Jam" but with "Machine" it felt like a hang out which was great.
Speaking of "That's My Jam," that's a fitting title because it has to be one of your catchiest tracks. That has to be tailor-made for the stage. How fun is it bringing that one into your shows?
This song is great fun live. Benji really works the crowd up into it before we start. We knew this song would work well live as it has parts of everything we do in it. It has the metal, rock, dancehall, rap, electronica etc all there. While we were writing it we knew it would translate to the live show. You just have a feeling sometimes and I think it will be a staple in the live set for some time!
The backing vocals by the cheerleaders make it instant for crowd participation so you get that reaction immediately. I can't wait to play this in America. I think it will go off!
The sunglasses-wearing cat is on your album cover and he's shown off some pretty fleet dance moves in the "That's My Jam" video. Any chance he might turn up and show off his moves during your shows?
100%. He was supposed to turn up to our London show a few weeks back but he got distracted by a mouse and missed his slot. I would want him at every show if possible but the road can be a cruel mistress. It's not for everyone. There is a lot of temptation out there, and for an inexperienced young cat I would fear for him. I'm sure he will turn up to some choice shows if he can control his hairball problem though.
Skindred have found a niche in hard rock and metal by introducing reggae and other elements into the mix. We've seen especially the metal side the genre has grown with variations on the sound and a number of subgenres being born especially over the last couple of decades. What is your take on where heavy music is at today and do you take notice when other acts start bringing something new to the table?
I think heavy music is in a great place at the moment. There seem to be a lot of new bands coming out that have something to say and something to offer. When I talk about heavy music its encompasses all types of rock. Heavy music which sounds like Napalm Death or heavy lyrically like AIC. I was never really into a particular scene so if a band got my attention it was usually because of a specific song and then I would delve in. It didn't matter if it was death metal, punk rock, reggae, DNB or grunge etc. It was all rock and roll to me. I think that's the same of everyone in my band. We love music and when you can draw influence from such a wide spectrum you can do some wicked stuff. That's the gift.
You have Zeal and Ardor and the Fever 333 doing some rad stuff and then a band like Creeper. All three are pretty different but come under the same banner of heavy music. I think time is something that a lot of new bands aren't given though -- the time to develop and experiment. Once you are out there, that's it. You can only be new once. I hope all the above bands are around in 20 years and I can see their journey. That's the exciting bit for me. I have to remember that Big Tings is our seventh record in 19 years. That's a very fortunate vantage point.
You have dates in Europe this summer, but recently posted on socials asking fans which acts they'd like to see you tour the U.S. with. How are things coming with a U.S. trek and is there an ideal tour bill you'd love to put together someday, whether it's this run or down the road?
We want to come back to the States so bad now. We are aching for it. I know it's going to happen before the end of the year. Tour wise I'd love to do an old school tour with all of our friends from America. So it would be like a reunion. Disturbed, Korn, Papa Roach, etc. Or maybe we could do a Brits Abroad tour? Skindred, Bullet for My Valentine, Royal Blood, Asking Alexandra.
If we were to headline I'd love to bring the tour we just did in the U.K. with CKY and Danko Jones over. We had an amazing time with those guys. Amazing bands and awesome people.
What's on the horizon both for Skindred and any other projects you may have that we should be looking for over the next year?
Skindred are on cycle now so expect lots of touring. At the beginning of every touring cycle I always want to play at least one place we have never played before. We just got back from Mexico last week so we are starting off on the right foot! We had never been there and the response was overwhelming. Can't wait to go back. On this cycle, I'd like to play the Bahamas, Barbados, Antigua. It would be called the "Permanent Vacation Tour." If you know anyone in any of the above spots that wants a house band then look no further, we are great! Thanks for having me and hopefully see you at a show.
Skindred's 'Big Tings' album is out now and you can pick up or stream the disc via the platform of your choosing here. Skindred will be quite busy over the summer in Europe where they are touring in support of the disc. Dates can be found here. Check out the "Machine" and "That's My Jam" videos below.
Skindred, "That's My Jam"
More From Classic Rock Q107