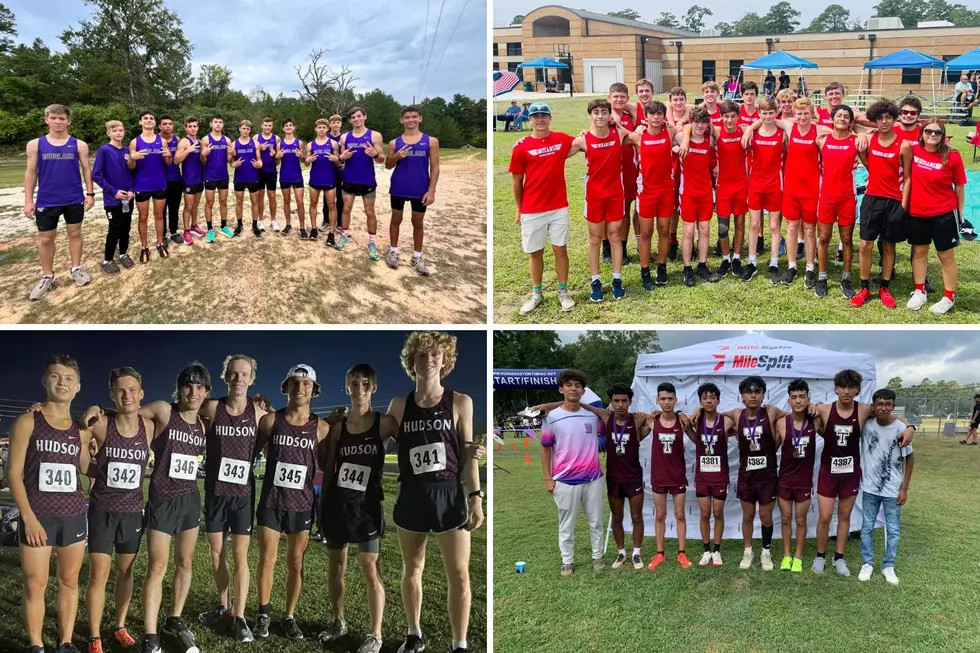 Which East Texas Teams Made the Newest Cross Country Rankings?
Hudson, Douglass, Groveon, Tenaha FB Pages
A few months ago, not long after many schools had their graduation ceremonies, cross country teams across East Texas and beyond started training for the upcoming season. For most teams, that season of competition started in August.
Boys and girls high school teams are trying to get in their best shape for their respective district meets.  Most of those meets will occur in mid-October, with the Regionals and State Competitions in line a few weeks after that.
Several times during the season, the Cross Country Coaches Association of Texas (CCCAT) releases their top ten rankings for the different divisions statewide. Several East Texas teams are represented in the latest polls.
In Class 2A, the boys' teams from Tenaha, New Summerfield, Douglass, and Groveton are ranked 7th through 10th, respectively. All four of those teams are hoping to repeat their successes of 2021 when they all advanced to the state cross country meet in Round Rock.
In Class 4A, the boy's team from Hudson has made their first appearance in the top ten rankings this season.  The Hornets Cross Country Team has used their strong results to leap over several teams into the 7th position in the top ten.
Senior Austin Ponder and Junior Connor Graves have been finishing in the top five in almost every meet that they have run in this year.  In fact, Graves has finished first in all his starts including a 5K personal best of 15:28 at the Hudson Invitational Meet.
This week, Connor Graves has been nominated by Mile Split TX as the boys performer of the week.  You can vote for him here. You'll be asked to provide your phone number for the opportunity to win a free subscription.
Other East Texas teams that made the polls include the Quitman girls in northeast Texas and the boys from Huffman Hargrave in southeast Texas.
Here's a look at the current CCCAT rankings
Class 1A Girls
Jayton
Roby
McMullen County
Buena Vista
Sands
Miller Grove
Eula
Spur
Borden County
Priddy
Class 1A Boys
Jayton
Saltillo
Slidell
Fayetteville
McMullen County
Miller Grove
Sands
Eula
Texline
Blum
Class 2A Girls
Christoval
Gruver
Farwell
Goldthwaite
Wellington
Shiner
Wink
Hamilton
New Deal
Falls City
Class 2A Boys
Plains
Poolville
Hamilton
Wolfe City
Port Aransas
Christoval
Tenaha
New Summerfield
Douglass
Groveton
Class 3A Girls
Holliday
Whitesboro
Poth
Lytle
Canadian
Lorena
Quitman
Jim Ned
McGregor
Crane
Class 3A Boys
Eustace
Lytle
Crane
Jim Ned
Boyd
McGregor
Brownsville IDEA Frontier Prep
Whitesboro
Tornillo
Holliday
Class 4A Girls
Celina
Canyon Randall
Canyon
Fredericksburg
Salado
Sanger
Kaufman
La Feria
Bandera
Boerne
Class 4A Boys
Canyon
Big Spring
Giddings
San Elizario
Kaufman
La Feria
Hudson
Kennedale
Sanger
Huffman Hargrave
Class 5A Girls
Lovejoy
College Station
Boerne Champion
Colleyville Heritage
Georgetown
Comal Canyon
Grapevine
San Antonio Brackenridge
Aledo
Abilene
Class 5A Boys
Lovejoy
Georgetown
Argyle
Grapevine
Amarillo
Georgetown East View
McAllen
Comal Canyon
Sharyland
College Station
Class 6A Girls
Flower Mound
Southlake Carroll
Klein
Vandegrift
El Paso Franklin
Prosper
Highland Park
The Woodlands
Kingwood
Northwest Eaton
Class 6A Boys
Southlake Carroll
Coppell
The Woodlands
Prosper
El Paso Franklin
Atascocita
Round Rock
Wylie
Vandegrift
Strake Jesuit
Corrigan-Camden ISD Pays Tribute to 9/11
In 2021, on the 20th anniversary of 9/11, the Bulldog football team, cheerleaders, band, game staff, fans, and others honored first responders and remembered the events of 2001.
Cheerleader and Dance Team Competition at the 2022 Texas State Forest Festival
Teams from across East Texas competed in the Cheerleader and Pom Squad/Dance Team Competition at the 38th annual Texas State Forest Festival in Lufkin.
More From Classic Rock Q107