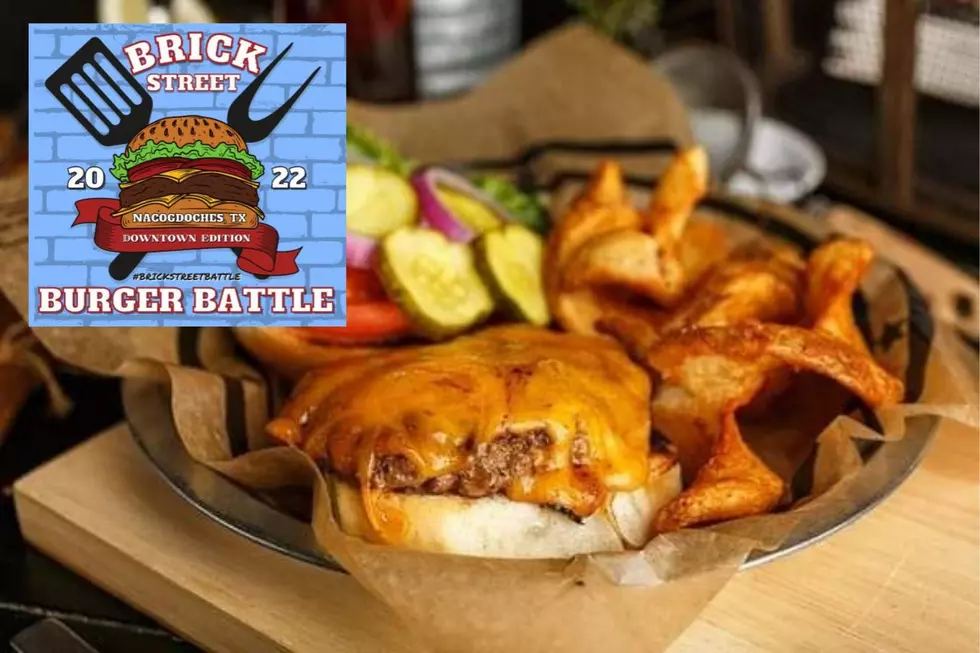 Who Has The Best Burger In Downtown Nacogdoches, Texas?
Nac CVB/Cowboy Jack's Saloon and Grill via Facebook
If you asked me what my favorite meal is you will always get the same answer - hamburgers. The Brick Street Burger Battle is looking for people like me and you to decide who has the best burger in downtown Nacogdoches.
This first-ever battle begins on Thursday, September 15th, 2022 as locals and visitors to the oldest town in Texas hit some iconic restaurants downtown. Not only are we going to get to eat lots of burgers, but the Nacogdoches Convention and Visitors Bureau is also throwing in cash prizes for us.
Eight different downtown hot spots are going to create a special burger battle recipe. Then you go to all of the places to eat the burgers that they created.
Win $500 Cash - The Brick Street Burger Battle In Downtown Nacogdoches
There are a few rules and moving parts to this contest. First off you are paying for the burgers, just FYI.
To start you go by the Nacogdoches Convention and Visitors Bureau and get your stamp card. You get this card stamped at each place you eat a burger.
Take a picture of your experiences and post it with the hashtag #BrickStreetBattles. Then turn in your stamp card showing at least two burgers eaten, but up to eight to the Nacogdoches CVB to get entered to win.
Participating Locations:
Brendyn's BBQ (Saturdays only after next week)
Clear Springs Nacogdoches
The Cottage Wine Bar
Cowboy Jack's Saloon and Grill
Dolli's Diner
Pemberley Tea Room
Stone House Kitchen
The Fredonia Hotel & Convention Center
Patrons consuming burgers will be entered in a drawing to win cash prizes as follows:
2 to 3 burgers eaten: $100
4 to 6 burgers eaten: $250
7 to 8 burgers eaten: $500
M3IS3D In Nacogdoches, Texas Makes Headphone Holder For Chuck Norris
Historic Downtown Apartment Building In Downtown Nacogdoches, Texas
The Maria A.Davidson apartment building was originally built in 1928 to cater to single women working in shops in Downtown Nacogdoches, Texas
See Inside The McAlister's Deli In Nacogdoches
Take a look around McAlister's Deli across from the SFA campus.
Get Your Own Zip Line Amusement Park In Nacogdoches, Texas
Two stocked ponds, two main houses, and an entire zip line park could be all yours at this property in Nacogdoches, Texas
Strong Winds Cause Damage In Nacogdoches
See the aftermath of the strong storms that ran through Nacogdoches and surrounding areas on April 12th, 2022.
Luxury Estate Sale In Nacogdoches, Texas
This estate sale has tons of items that you might already collect.
More From Classic Rock Q107