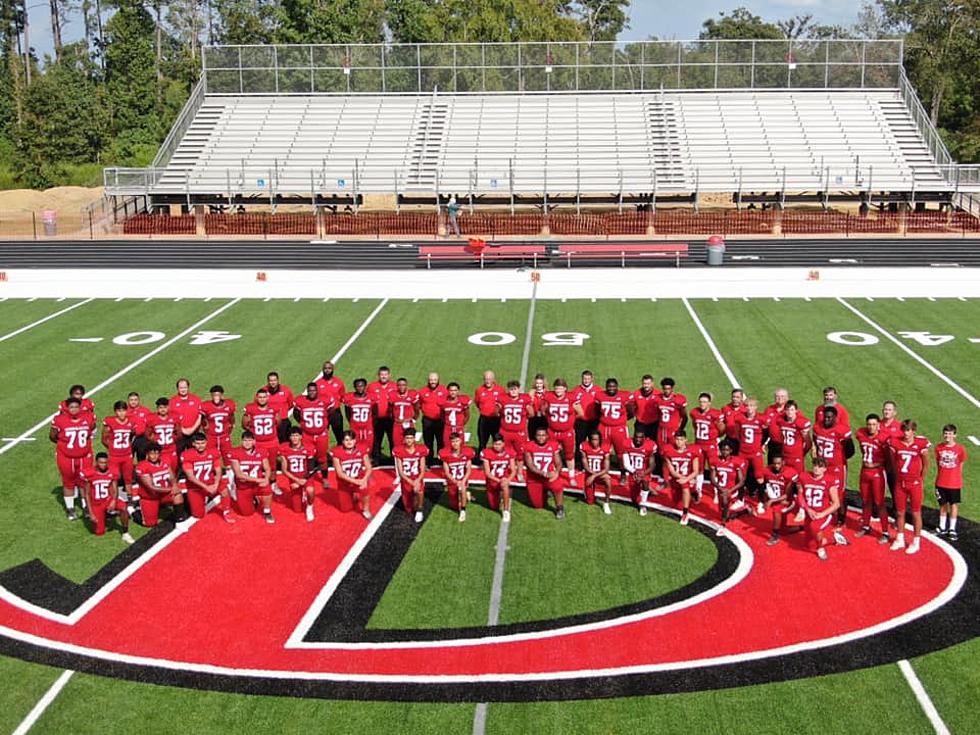 Here's the Football Playoff Schedule for Diboll, Huntington, and all area teams
Diboll ISD FB Page
It's high school football playoff time in Texas.  After 10 weeks of battling it out in the regular season, a number of teams from Deep East Texas have earned a spot in the bi-district round of the UIL Texas playoffs.
The Nacogdoches Dragons will be making their second straight trip to the playoffs as the number 4 seed in their district.  Likewise, the Huntington Red Devils are a number 4 seed after defeating Palestine Westwood last Friday night.  One of the area teams that looks to have a great shot at making a deep run into the playoffs are the Timpson Bears.  They are undefeated and playing outstanding football, however, there is a strong possibility that they would be matched up against Beckville in the regional round, and that would match up two of the best teams in the state in Class 2A.
But, that's still over 2 weeks down the road, so let's take a look at the scheduled bi-district games for teams in the Pineywoods.
CLASS 5A - DIVISION 2
Nacogdoches Dragons (3-7) vs Montgomery Bears (10-0)
Friday, 7pm - Montgomery ISD Stadium
CLASS 4A - DIVISION 2
Jasper Bulldogs (5-4) vs Waco Connally Cadets (4-5)
Thursday, 7:30 pm - Whitehouse Stadium
----------
Rusk Eagles (8-2) vs Salado Eagles (7-3)
Friday, 7:30 pm - Eagle Stadium in Desoto
CLASS 3A - DIVISION 2
Waskom Wildcats (9-1) vs Corrigan-Camden Bulldogs (6-4)
Friday, 7 pm - Tomato Bowl in Jacksonville
------------
Newton Eagles (8-1) vs Harleton Wildcats (4-6)
Thursday, 7 pm - Roughrider Stadium in Center
CLASS 3A - DIVISION 1
Diboll Lumberjacks (7-3) vs Buna Cougars (2-8)
Thursday, 7 pm - Eagle Stadium in Woodville
------------
East Chambers Buccaneers (7-3) vs Huntington Red Devils (4-6)
Thursday, 7 pm - Lumberton High School Stadium
-------------
Woodville Eagles (6-3) vs Crockett Bulldogs (4-6)
Thursday, 7:30 pm - Abe Martin Stadium in Lufkin
--------------
Coldspring-Oakhurst Trojans (7-3) vs Anahuac Panthers (8-2)
Friday, 7:30 pm - Randall Reed Stadium in New Caney
CLASS 2A - DIVISION 2
Deweyville Pirates (5-4) vs West Sabine Tigers (3-6)
Friday, 7 pm - Jasper Football Stadium
------------
Lovelady Lions (8-2) vs Hull-Daisetta Bobcats (4-4)
Friday, 7 pm - Woodville Eagle Stadium
------------
Tenaha Tigers (8-2) vs Burkeville Mustangs (5-5)
Thursday, 7 pm - Jasper Football Stadium
------------
Evadale Rebels (8-2) vs Cushing Bearkats (5-3)
Friday, 7 pm - Huntington High School Stadium
CLASS 2A - DIVISION 1
Timpson Bears (8-0) vs Frankston Indians (5-5)
Thursday, 7 pm - Tomato Bowl in Jacksonville
-------------
Alto Yellowjackets (6-2) vs Thorndale Bulldogs (7-3)
Friday, 7:30 pm - Blackcat Stadium in Mexia
-------------
Garrison Bulldogs (4-4) vs Hawkins Hawks (6-4)
Friday, 7:30 pm - West Rusk Stadium
-------------
Carlisle Indians (5-4) vs Shelbyville Dragons (6-4)
Thursday, 7 pm - Bulldog Stadium in Carthage
Here's a look at standout athletes, students, band members and drill team members from our Friday Night Frenzy program on KICKS 105
FNF - 100821
Friday Frenzy 092421
FNF Shout Outs 09-10-21
Friday Night Frenzy Shout Outs - 8-27-2021
More From Classic Rock Q107