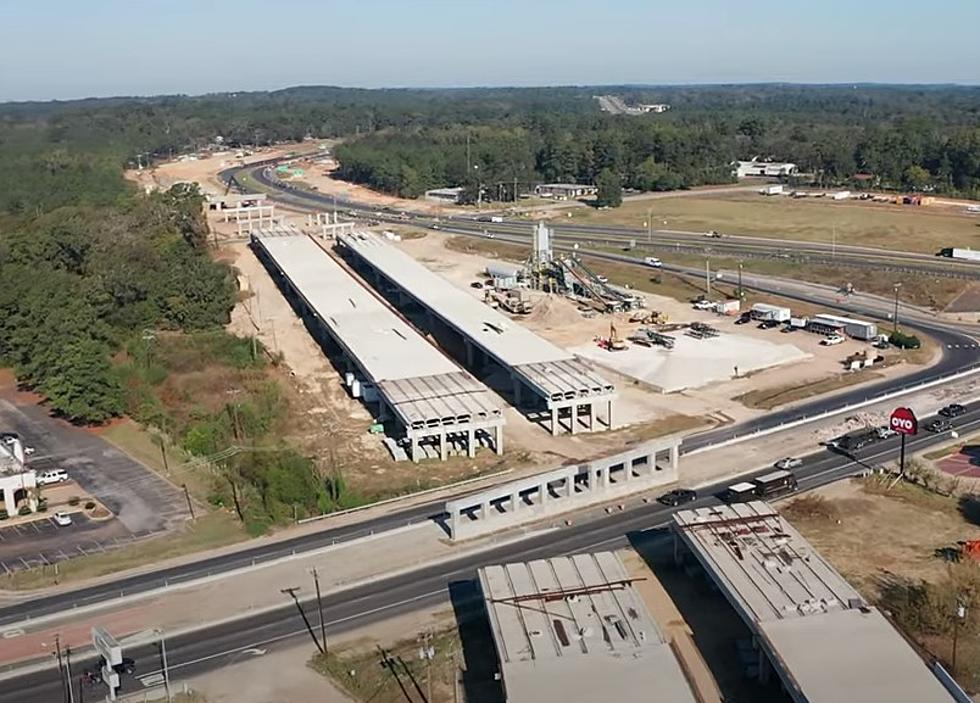 Night Work and New Detours Set to Begin for Hwy 59 in Nacogdoches
Jason Reina
The construction zone on Highway 59 just south of Nacogdoches, at times, has been a nightmare for motorists.  Last week, a friend of mind was stuck in northbound traffic for the better part of 45 minutes. This is all part of the expected growing pains of the Highway 59 flyover project.
In about 18 months, we'll be able to look back and be thankful the road work is done, and we'll be able to see the great engineering accomplishment that this flyover will be.  However, until then, the detours and closures and delays continue...and, here's another one that's coming up.
TxDOT is alerting motorists that crews have scheduled night work to begin on Nov. 23 and continue the week of Nov. 29, to begin placing beams across US 59 in Nacogdoches. The US 59 expansion/flyover construction project will progress to night work for several nights so that crews can place overhead concrete beams across the roadway. Traffic during these night hours will be redirected into north or southbound lanes. Motorists are urged to stay alert for changing traffic patterns.
Beam placement at the Loop and Old Lufkin Road is continuing during daytime work hours with scheduled closures. Egret Drive at Loop 224 will be closed from Nov. 22 through Nov. 24. In addition, traffic will be moved into a single lane with traffic control set at East Mockingbird Lane through Nov. 24th. Motorists are being urged to stay alert for detour and directional signage or flaggers in place through these areas. The closures are necessary for the placement of bridge features.
"This project is moving along on schedule and we are at about 55-percent of overall completion," said Rhonda Oaks, public information officer. "There will be traffic disruptions in coming days and we ask the public to be patient and drivers to stay alert and slow down through this area as this project progresses."
The $86.1 million construction project includes construction of new US 59 main lanes that will directly connect to Loop 224 just south of Highway 7 to US 59. The project is being built to interstate standards.
Work includes the construction of overpasses at Spradley Street, existing US 59 and Old Lufkin Road, and the construction of frontage roads for Loop 224 between Highway 7 and Business 59.
This project is set for completion in Spring 2023. Once completed, it will provide a continuous stop-free driving experience for through traffic and hurricane evacuation, provide sustainable pavement structure for years and maintain safe access to businesses and residences in the area.
Here's a look at the latest flyover photos
Highway 59 Flyover - 110221
More From Classic Rock Q107