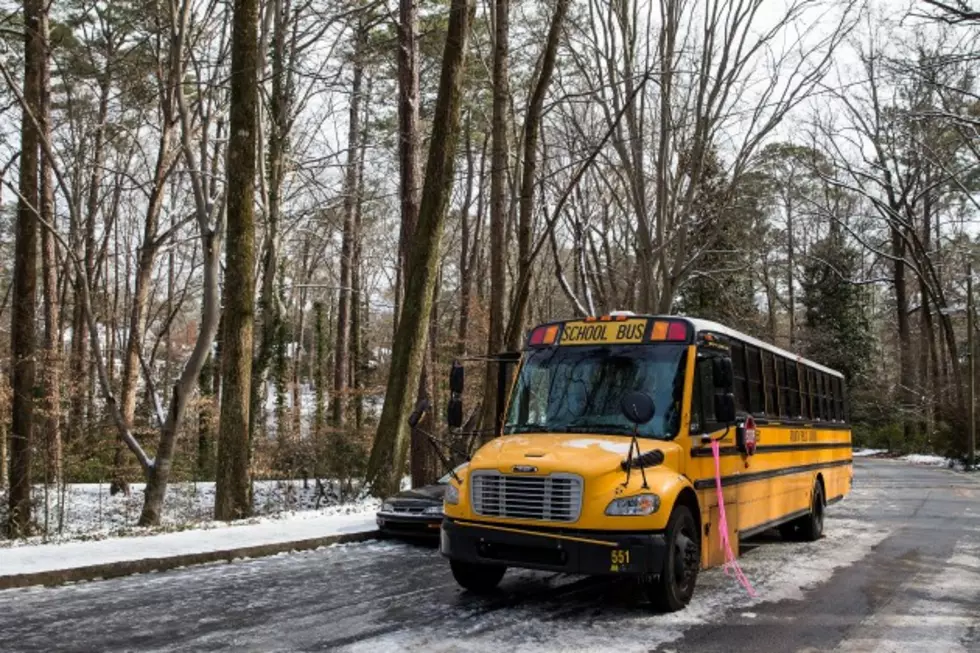 Winter Weather Leads to More School Delays – UPDATED February 12, 2014
Daniel Shirey/GettyImages
Wintry precipitation is moving into East Texas again, and we're in for more icy roads.  A Winter Storm Warning is in effect overnight for Sabine, San Augustine, and Shelby counties.  A Winter Weather Advisory continues for Angelina, Nacogdoches, and many surrounding counties. Up to a half inch of ice could fall in some parts of the Pineywoods, especially north and east of the Lufkin/Nacogdoches vicinity.
If you have a delay or closure to report and it's verifiable, please call us at 936-674-6139.
Here's what we have so far for Wednesday, February 12, 2014:
Delayed Opening - 10:00 AM
Apple Springs ISD
Broaddus ISD
Brookeland ISD
Center ISD
Central Heights ISD
Chireno ISD
Christ Episcopal
Corrigan-Camden ISD
Crimson Christian Academy
Crockett ISD
Cushing ISD
Douglass ISD
Elkhart ISD
Fredonia Hill
Excelsior ISD
Garrison ISD
Hemphill ISD
Kennard ISD
Leggett ISD
Livingston ISD
Lovelady ISD
Martinsville ISD
Mount Enterprise ISD
Nacogdoches ISD
San Augustine ISD
Shelbyville ISD
Tenaha ISD - CLASSES CANCELLED WEDNESDAY
Timpson ISD
Wells ISD
West Sabine ISD
Woden ISD
Extreme Cheer and Gymnastics will be cancelling tonight's 8:15PM class. The Youth Cheer Team will be dismissed at 8:00PM, NOT 8:30PM.
Conditions are getting very icy in Nacogdoches County, please drive with extreme caution.
More From Classic Rock Q107