Watch Hulk Smash in This New 'Thor: Ragnarok' Clip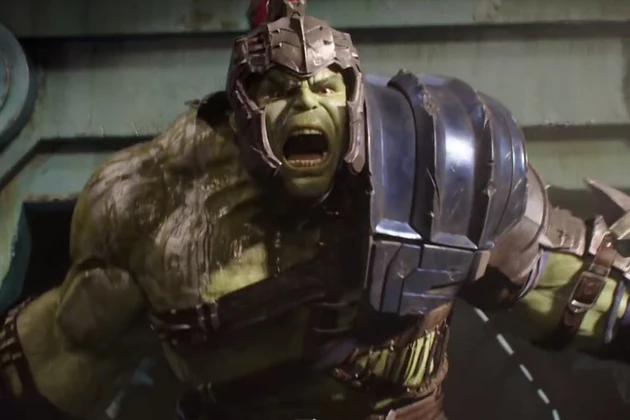 I'd like to think I'm not prone to hyperbole, so believe me when I say I'm putting all my remaining Marvel eggs in the Thor: Ragnarok basket. Sure, I've more-or-less enjoyed most of the movies in the franchise  —  this year's Guardians of the Galaxy Vol. 2, for example, might be one of their best yet  —  but superhero movies are like anything else: the more you ingest, the less you enjoy it the next time around. If Marvel is going to continue making these movies until the sun explodes, then I'm ready for things to get a little bit weird, and Thor: Ragnarok director Taika Waititi is the right person to deliver.
"It's main event time!" 👊 #ThorRagnarok pic.twitter.com/wo6Mk2f374

— Marvel Studios (@MarvelStudios) August 26, 2017
Thankfully, Marvel's newfound weirdness has been on full display in each of the Thor: Ragnarok ads, up to (and including) this teaser for the film. You may come for an extended look at the fight between Thor and the Hulk, but you'll definitely stay for the bright splashes of neon and some of the psychedelic transitions. We sometimes hope that a movie can live up to the quality of the trailers, but in the case of Thor: Ragnarok, I think we're all hoping that the film is basically just a longer version of what we've already seen. Don't mess with your beautiful new formula, Marvel.
Here's the full plot synopsis for Thor: Ragnarok:
The mighty Thor finds himself in a lethal gladiatorial contest against the Hulk, his former ally. Thor must fight for survival and race against time to prevent the all-powerful Hela from destroying his home and the Asgardian civilization.
In addition to Marvel regulars Mark Ruffalo and Chris Hemsworth, Thor: Ragnarok will bring back Idris Elba and Tom Hiddleston to the franchise and add newcomers Cate Blanchett, Tessa Thompson, Jeff Goldblum, and Karl Urban. The film will roar into theaters on November 3, 2017.

Source:
Watch Hulk Smash in This New 'Thor: Ragnarok' Clip