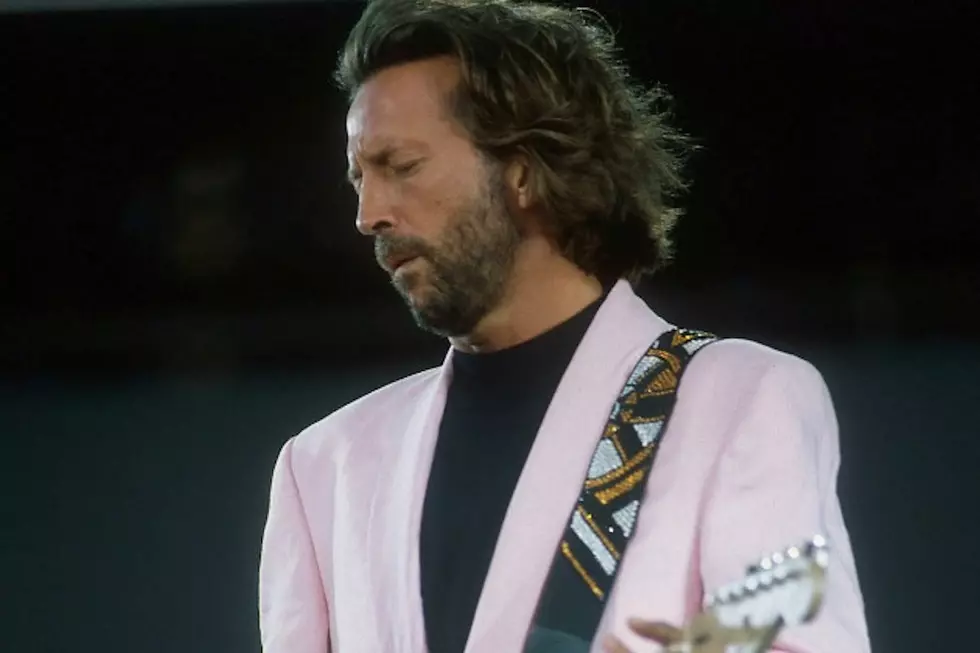 How Tragedy Shaped Eric Clapton's Heartbreaking 'Tears in Heaven'
Frank Micelotta, Getty Images
Eric Clapton turned to the healing power of music at one of his darkest personal moments. It was surely never part of the plan, but the results became one of the biggest hits from an incredibly distinguished career.
The song in question, "Tears in Heaven," was inspired by the death of Clapton's 4-year-old son Conor after a tragic fall from a New York high-rise where the boy had been living with his mother, actress and Italian television personality Lory Del Santo. Gutted by grief, Clapton turned to his work — which at the time included delivering the score and soundtrack for the 1991 crime drama Rush.
While Clapton's work for the film was mostly instrumental, he also included a trio of vocal numbers: a cover of Willie Dixon's "Don't Know Which Way to Go" and a pair of new originals, "Help Me Up" and "Tears in Heaven," co-written with lyricist Will Jennings. Jennings understandably tried to demur his way out of the latter track, but he ultimately found himself unable to say no.
"He said to me, 'I want to write a song about my boy.' Eric had the first verse of the song written, which, to me, is all the song, but he wanted me to write the rest," Jennings told Songfacts. "I told him that it was so personal he should write everything himself. ... Finally there was nothing else but do to as he requested, despite the sensitivity of the subject. This is a song so personal and so sad that it is unique in my experience of writing songs."
For Clapton, the assignment was completed on something approaching pure instinct. "I almost subconsciously used music for myself as a healing agent, and lo and behold, it worked," he told ABC News years later. "I have got a great deal of happiness and a great deal of healing from music."
Understandably, "Tears in Heaven" is far from a happy song — and Rush quickly faded from theaters — but the song's hopeful, probing approach to unimaginable grief strongly resonated with listeners, who sent the track soaring to No. 2 on the Billboard chart and turned it into Clapton's top-selling solo single. In addition to sales, it reaped immense critical acclaim, cleaning up at the 1993 Grammy Awards, where it took home Best Pop Vocal Performance, Record of the Year and Song of the Year.
Watch Eric Clapton's 'Tears in Heaven' Video
For Clapton, the response to "Tears in Heaven" had to be bittersweet, at best. With hindsight, however, he had enough distance to be able to try and appreciate the aspects of the song that made it so popular. Looking back as a songwriter, he clearly identified the universal strengths of its themes.
"It asked a very pertinent question," Clapton told Mojo in 2005. "Because I don't really know. ... I have a belief in a higher power, but I don't really know whether — most of those old religious things say, 'See you over there.' And you think, 'Really? How do you know?' And the song asked that question. And I'm always wondering whether ... [very quietly] we meet people again."
As time wore on, Clapton developed enough of an emotional distance from the events surrounding "Tears in Heaven" that he found himself unwilling to continue performing it in concert, announcing in 2004 that he was phasing it out along with the similarly inspired "My Father's Eyes."
"I really have to connect with the feelings that were there when I wrote them. They're kind of gone and I really don't want them to come back, particularly. My life is a different life now," he explained. "They probably need a rest, and maybe I'll introduce them from a much more detached point of view."
In the meantime, "Tears in Heaven" remains one of Clapton's most hauntingly resonant works, and a testament to creativity's ability to help us cope with feelings and events that might otherwise wipe out our emotional reserves. Looking for answers, Clapton turned to his muse, and delivered a song that stands with the best of his work — and continues to help listeners heal today.
"I think what works about that song is it's a question. That doesn't offend anyone," Clapton surmised. "It's asking for help. It works for people. It's a great way to communicate, asking for help."
Eric Clapton Albums Ranked
Eric Clapton had already carved out a respectable career for himself before he issued his first solo album.
See Eric Clapton's Guitar Hero Yearbook Picture
More From Classic Rock Q107