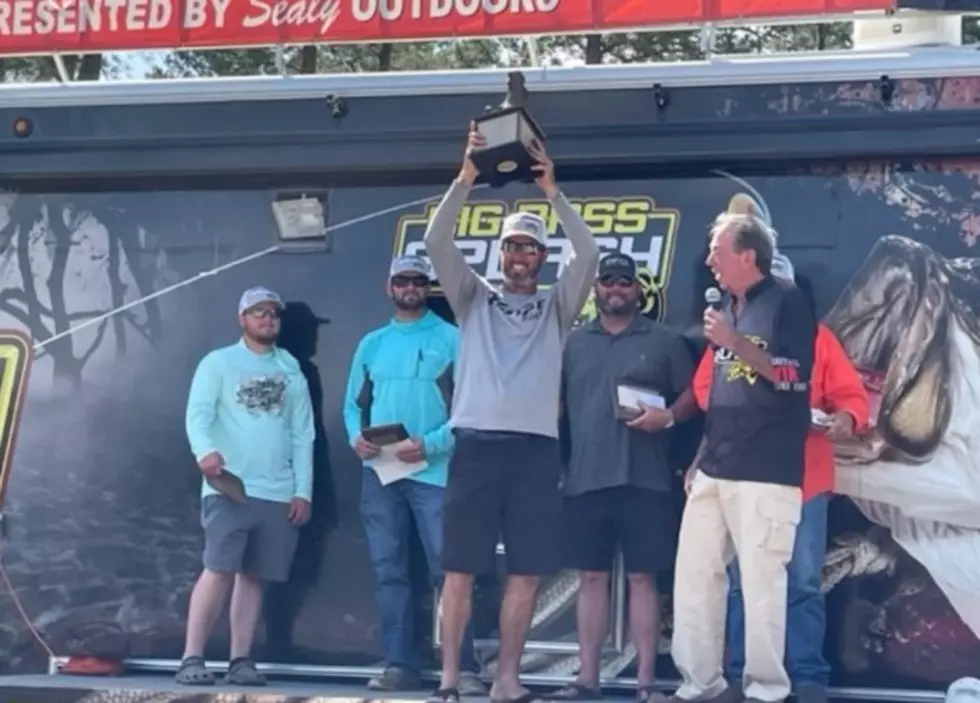 Texas Angler Accomplishes an Historic First at Lake Sam Rayburn
KICKS 105
38 years.
That's how long Bob Sealy and his crew at Sealy Outdoors have been having their yearly Big Bass Splash at Lake Sam Rayburn. During that time a number of 'firsts' have happened along the way.
The first-ever grand prize winner under the age of eighteen happened a number of years ago when a 12-year-old boy from Florence, Texas took home a new boat and new Hummer.  More recently, the Big Bass Splash on Sam Rayburn saw its first female grand prize winner.  Last year, Julie Brown of Lubbock became the 2nd woman to ever win the Sam Rayburn event.
Another first happened at the 2022 Big Bass Splash Tournament.  Ralph Dupuy of Groves, Texas became the first angler to ever repeat as champion of a Sealy Outdoors event on the same lake.  In 2018, Dupuy's 12.05 monster fish was good enough to win the overall title and prize package.  Then, four years later, in 2022, his 11.1-pound bass once again put him in the top overall spot.  That's two boats, two trucks, and lots of money.  His estimated winnings for those two years are valued at nearly a quarter of a million dollars.
Here are the top five finishers, their fish weight and their prizes for the 38th Annual Big Bass Splash on Lake Sam Rayburn:
Ralph Dupuy, Groves, Texas - 11.10, Phoenix 21PHX Bass Boat powered by Mercury, equipped with Minn Kota, Lowrance, Navionics, Power Pole and X2 Power Batteries, plus a Dodge RAM Truck and $10,000 cash.  $115,000 total value
Ocey Johnson, Cleveland, Texas - 9.95, $20,000 cash
Bobby Amidon, Leander, Texas - 9.65, $15,000 cash
Joshua Talley, Shongalou, Louisiana - 9.40, $10,000 cash
James W. Anthony, Nacogdoches, Texas - 9.29, $5,000 cash
Over $550,000 in cash and prizes was paid out to anglers over this three-day event.
One of the most memorable events of the 3-day event occurred when Huntington, Texas 5th-grader brought in a 4.00 exact-weight bass good for a $5,000 check.
2022 Big Bass Splash on Lake Sam Rayburn
Here's a look at some of the highlights from the 2022 Big Bass Splash on Lake Sam Rayburn
More From Classic Rock Q107