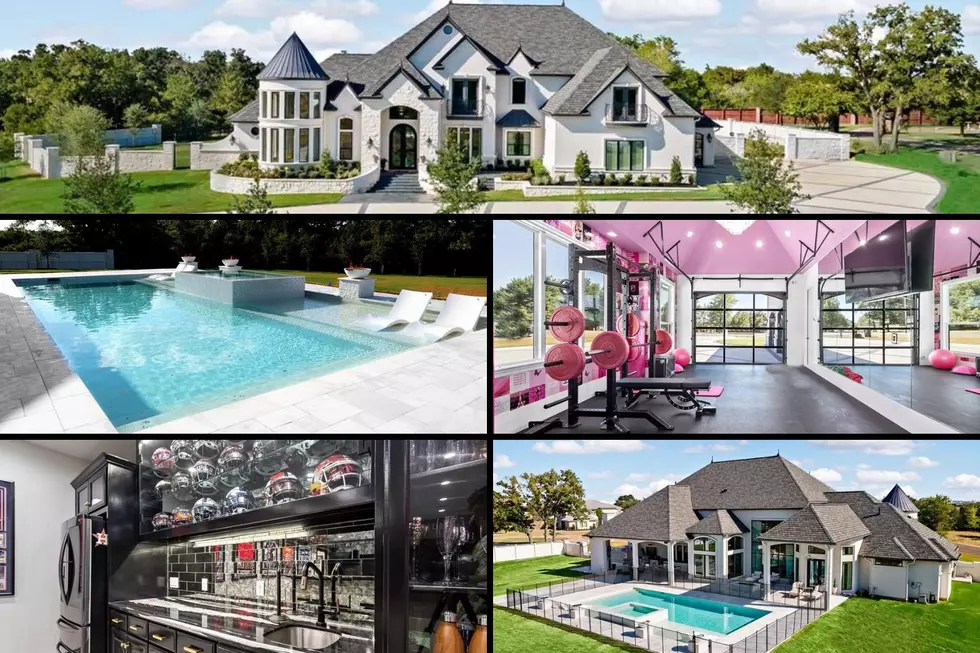 Bright Pink Gym and Chandelier in This Bryan, Texas Mansion
Cherry Ruffino via zillow.com/Canva
There seems to be a trend this week with the color pink being used on homes in the state of Texas. Earlier this week I was telling you about the Pepto Bismol Pink colored home for rent in Port Arthur, Texas. And then I was looking at other real estate options in Texas and I found this mansion in Bryan, Texas that has a bright pink colored gym (including pink weights), and a chandelier to make it one of a kind. 
When you see the pictures below of this mansion in Bryan, Texas you will be in awe of how beautiful it is but with an asking price of $3,990,000 it better be gorgeous. The address for the home is 7163 Riverstone Drive, Bryan, TX 77808. The home is 5 bedrooms and 5 ½ bathrooms totaling 7,100 square feet and the home sits on 1.74 acres of land.  
Bryan, TX Mansion Hasn't Been For Sale Very Long
It will be interesting to see how quickly this home has an offer submitted as it hasn't been on the market for very long and lots of people have viewed it already. The photos below show you how amazing this home is, but I can't imagine too many people are looking for a $4 million dollar home right now. That is just a guess considering that amount is so far out of my price range.  
My Two Favorite Things About This Bryan, TX Mansion
The first thing I loved about this property was the amazing pool area outside, it looks very inviting and just a great place to make memories with friends and family. When looking inside the home I love the high ceilings, some are 20-foot high, which just makes the rooms and property seem even larger.  
This place is incredible, you'll see what I mean as you scroll though these pictures. 
Pink Mansion For Sale in Bryan, Texas
Whoever created this mansion loves the color pink as shown in these photos.
NASCAR Legend Tony Stewart's $30 Million Mansion Looks Exactly Like a Bass Pro Shop
Stewart's 19,714-square-foot rustic mansion is nestled on 415 acres of sprawling woods. Oh, and it comes with a 9-acre stocked lake. And just like every Bass Pro Shop you've ever been in, the two-story waterfall and trout stream in the entry hall is included.
How About We Take a Quick Peek Inside Shaq's Beautiful New Dallas, TX Mansion?
He's one of the biggest guys to ever step foot on a basketball court, and has got one of the biggest hearts off of it. Television personality, entrepreneur, and NBA Hall of Famer, Shaquille O'Neal has moved to Dallas, TX, and we're ready to take a look at his new digs.
More From Classic Rock Q107